October 01, 2010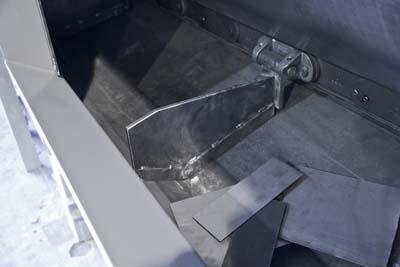 PRAB has recently released an innovative off-set trough design for its ScrapVeyor stamping scrap conveyor to meet the unique space requirements for retrofit in-floor applications. Traditional in-floor designs of the ScrapVeyor have utilized a flat or symmetrical V-style trough design. The newly released off-set design allows the conveyor to fit within tighter spaces. "We were pleased to meet the customers challenge byengineering a new twist on a design with decades of proven reliability and efficiency," noted Gordon Brodhagen, PRAB Conveyor Project Manager. "The new off-set trough design allows the conveyor to fit within an existing in-floor pit to achieve significant installation savings for the customer." The ScrapVeyor is a fully automated conveyor that uses positive discharge to ensure zero carryover. Its leak-proof construction retains 100 percent of cutting fluids as it transfers scrap up to 300 feet (90 meters) in both above-floor or in-floor applications. Larger rollers keep the flighted chain on track, while rotating flight cams provide less friction for cooler, longer operation. Discharge options include standard chute, automatic or manual pivoting swivel chutes, as well as an automatic or manual tipping chute for use with single, dual or full-size trailers or railcars.
Related Glossary Terms
flat ( screw flat)


flat ( screw flat)

Flat surface machined into the shank of a cutting tool for enhanced holding of the tool.