April 15, 2019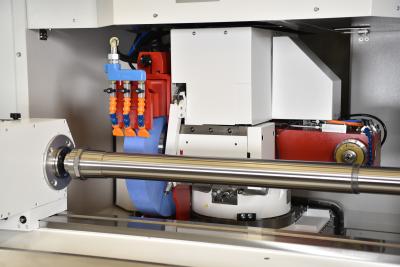 Fritz Studer AG has introduced the S33 and the S31 (pictured) machines, now with four distances between centers of 400, 650, 1,000 and 1,600 mm. The distances between centers of 400 mm and 1,600 mm complete the portfolio for long and short workpieces.
Based on the Studer T-slide concept, these have an extended X-axis stroke. This is now 370 mm and enables additional wheelhead variants. Studer has redesigned the machine column geometry and added an innovative column temperature control. This ensures improved dynamic and thermal stability of the machines.
The cost and complexity of setup and resetting can now be significantly reduced. This is made possible by the fixing of the dressing device on the double T-slot dresser of the longitudinal slide and by Quick-Set, the Studer software for grinding wheel alignment. The standard control is a FANUC 0i-TF with the efficient and user-friendly StuderWIN programming software.
Another benefit? The StuderTechnology computer incorporates enhanced grinding expertise. With just a little information, StuderTechnology automatically calculates the optimal grinding parameters in a matter of seconds. The customer achieves high quality and a quick, stable process at first attempt. Both machines can be easily automated for series production thanks to the standardized loader interface.
The S33 has a new wheelhead, which can be equipped with a motor spindle for external grinding and a high frequency spindle for internal grinding in different configurations. Three grinding wheels ensure that the workpiece is machined even more individually and quickly - complete machining in a class of its own! The machine has a B-axis with an automatic 1° Hirth coupling. The maximum workpiece weight is 150 kg.
The S31 machine features StuderGuide guideways with damping component in the direction of movement. The B-axis can optionally be equipped with a direct drive with a resolution of 0.00005°. The wheelhead can take up to three grinding wheels – a combination of external/internal, up to a maximum of two external or internal grinding spindles. For high-precision form grinding with the FANUC 31i-B control system, the S31 features a workhead with direct measuring system and the StuderFormHSM software program.
Advantages at a glance
Distances between centers: 400, 650,1000,1600 mm
StuderGuide guideway systems (S31)
Thermal stability thanks to innovative column temperature control (distances between centers 400 to 1,600 mm)
Double T-slot for dressing systems
Numerous grinding head variants
StuderWIN programming software with StuderTechnology
Both machines can be fully automated