September 01,2014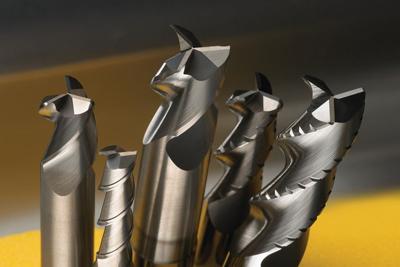 SGS Tool Co. has expanded its S-Carb offering to include a new ballnose geometry, additional corner radius and reach options and larger diameters. The S-Carb high-performance endmills are for aggressive aluminum, nonferrous and nonmetallic machining applications requiring a high level of material removal.
The S-Carb 3-flute series have been engineered with a specialized flute to effectively manage the size and volume of chips produced during aggressive machining. The long-reach neck design provide clearance to reach with short flutes for maximum rigidity. The new S-Carb ballnose option is ideal for workpieces with complex surfaces.
The entire S-Carb product offering are ideal solutions for cycle time reduction in target applications such as aerospace structure components; automotive performance wheels, housings, and transmissions; non-ferrous mold cavities and aluminum components used in firearms and weaponry.
The expanded fractional offering is available from stock with both an uncoated or optional coated version. Ti-NAMITE-B (TiB2) is the exclusive high performance coating for SGS Aluminum Solutions, providing superior wear resistance and a low coefficient of friction for extended tool life.
Related Glossary Terms
clearance


clearance

Space provided behind a tool's land or relief to prevent rubbing and subsequent premature deterioration of the tool. See land; relief.

flutes


flutes

Grooves and spaces in the body of a tool that permit chip removal from, and cutting-fluid application to, the point of cut.

wear resistance


wear resistance

Ability of the tool to withstand stresses that cause it to wear during cutting; an attribute linked to alloy composition, base material, thermal conditions, type of tooling and operation and other variables.
Additional Products from Kyocera SGS Precision Tools