July 01, 2016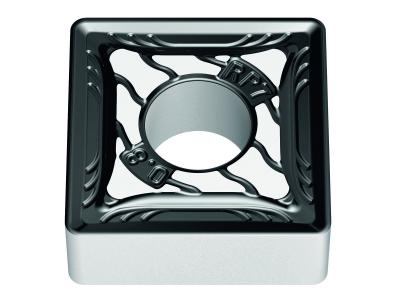 Walter says its double-sided ISO indexable inserts with RP7 geometry provide maximum process reliability in rough turning by combining a ground contact surface with an optimized profile that has a tailored protective chamfer to guard against fracturing. The RP7 benefits from a new design that features a specially designed T-land for protection against chipping, aground seating surface, center curve design for extra cutting edge strength and a deeper chip groove that enables higher feed rates.
This geometry offers an alternative to the Walter MP5/RP5 geometry when a more robust cutting edge is required. It is particularly suited to working on applications that include heavily interrupted cuts or forged parts with variable machining depths, and is also ideal for roughing steel materials.
In addition, the inserts' Tiger·tec Silver coating technology extends tool life, thereby lowering new tool investment costs. Costs are also significantly reduced by having a two-sided insert, providing double the standard number of cutting edges on each indexable insert in comparison to the usual single sided insert typically used for heavily interrupted roughing cuts. These features, in conjunction with the new optimized geometry, make the new RP7 inserts the productive solution for rough turning applications.
The new RP7 geometry is available in the four basic shapes; CNMG, SNMG, TNMG and WNMG, and in grades WPP10S, WPP20S and WPP30S, and now in the extra tough grade WKP30S for applications requiring maximum toughness.
Related Glossary Terms
feed


feed

Rate of change of position of the tool as a whole, relative to the workpiece while cutting.

indexable insert


indexable insert

Replaceable tool that clamps into a tool body, drill, mill or other cutter body designed to accommodate inserts. Most inserts are made of cemented carbide. Often they are coated with a hard material. Other insert materials are ceramic, cermet, polycrystalline cubic boron nitride and polycrystalline diamond. The insert is used until dull, then indexed, or turned, to expose a fresh cutting edge. When the entire insert is dull, it is usually discarded. Some inserts can be resharpened.

turning


turning

Workpiece is held in a chuck, mounted on a face plate or secured between centers and rotated while a cutting tool, normally a single-point tool, is fed into it along its periphery or across its end or face. Takes the form of straight turning (cutting along the periphery of the workpiece); taper turning (creating a taper); step turning (turning different-size diameters on the same work); chamfering (beveling an edge or shoulder); facing (cutting on an end); turning threads (usually external but can be internal); roughing (high-volume metal removal); and finishing (final light cuts). Performed on lathes, turning centers, chucking machines, automatic screw machines and similar machines.