November 01,2011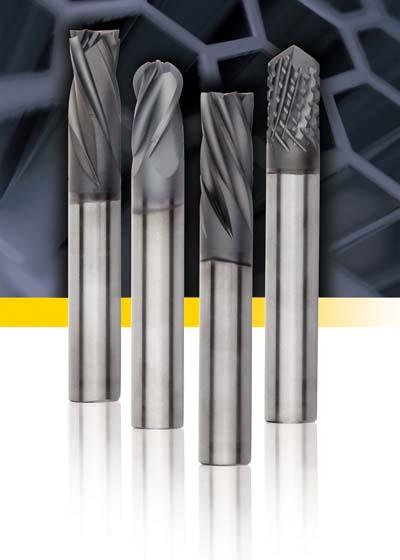 Because of their high strength-to-weight ratio, carbon-fiber-reinforced polymer (CFRP) parts are appearing more often in aerospace applications and are emerging in such fields as auto racing, sporting equipment (longboards and rowing shells), and many others.
But the properties that make such parts so useful make them very difficult to machine. The resins are light, but break and snap, rather than shear off in chips like metals and alloys. The carbon-fiber reinforcements are extremely strong, which can dull cutting tools quickly. They also can be layered in different directions, causing these layers to delaminate when drilling holes.
With years of experience providing custom cutting tool solutions to aerospace and other composites users, Kennametal is now introducing a line of Beyond solid-carbide KCN05 routers specifically engineered for successfully machining CFRP.
A ball-nose router dedicated for pocketing and profiling
A down-cut style with left-hand flutes that compress fibers as it cuts
A compression-style router with left-hand flutes on the shaft and right-hand flutes at the bottom, which also compresses fibers into the material
A burr-style router with many thin flutes for increased productive cutting
Each have unique geometries specifically geared to working in CFRP, but all possess a solid-carbide substrate and HP diamond coating for higher speed capabilities and longer tool life.
"Many industries are trending toward lighter, stronger, and recyclable materials, and many different kinds of composites are being developed for them," says Oliver Sax, Senior Global Product Manager, Solid End Mills at Kennametal. "These routers have the geometries and the sharp cutting edges for high-quality machined surfaces and improved tool life when working in CFRPs."