December 13,2012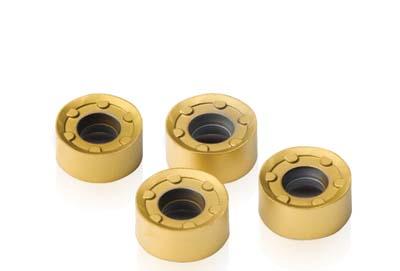 Kennametal introduces the revolutionary new Rodeka series of inserts for indexable milling. Based on the success of Dodeka, Rodeka double-sided inserts have a unique design with twelve cutting edges for a more productive and cost effective cutting process.
The anti-rotation feature on the inserts provides excellent stability for higher feed rates and cutting forces with an easy-to-index insert in the pocket.
The three variable topography styles of Rodeka inserts have robust cutting edges capable of covering any type of component and application. This design helps to achieve low cutting forces while consuming less power. The higher clearance of the bodies permits pocketing, profiling and 5-axis machining.
Each insert is marked so the user can easily identify the insert topography and edge number for correct indexing in the tool pocket. For correct indexing, the dimple in the edge of each number should be aligned with the groove in the cutter. To keep a fresh cutting edge and not lose performance, these inserts should be rotated counter-clockwise.
The three topographies of Rodeka inserts are engineered to take on different tasks and make these inserts diverse enough to handle a wide variety of indexable milling applications:
The -LD style insert has a honed edge for light to medium machining and is the first choice for stainless steel and titanium operations. Rodeka -LD inserts can provide up to 87 percent higher metal removal rates than some high-feed cutters at equal tool life but with twice the effective cutting edges.
The -GD insert style for medium to heavy machining has a 10 degree positive T-land and hone. This insert is the first choice for general-purpose applications and has been shown to offer increased metal removal rates when compared to similar cutters.
Rodeka -HD inserts are designed with a 0 degree T-land and hone to take on heavy machining tasks and cast iron materials. These inserts also offer higher metal removal rates and can have a considerably longer tool life than similar milling inserts.
Though an insufficient negative clearance angle limits the ramping capabilities of Rodeka inserts, they are capable of taking on pocketing, profiling, face milling, and blade machining at high metal removal rates with long tool life. Rodeka is available in a range of cutter styles and diameter sizes, including a 32mm to 42mm diameter screw-on option, a 32mm-dia. Weldon style, 32mm cylindrical shank end mills, and shell mill cutters from 40mm to 100mm in diameter.
Rodeka 8 is a variant of the double-sided Rodeka line of inserts with eight total cutting edges and specially designed tool bodies that are specifically engineered to take on turbine blade machining.
Rodeka 8 inserts have the same anti-rotation feature as Rodeka for a higher contact area with excellent stability for higher feed rates. Also, like Rodeka inserts, the seating dimple between tool faces on Rodeka 8 eases insert rotation and improves second side edge performance. These inserts are offered in the same -LD and -GD styles as Rodeka inserts, with the Rodeka 8 -GD style being preferred topography for forged blades.
An advantage to the Rodeka 8 insert are the dedicated inserts developed to improve milling performance. PVD inserts have a polished rake face to generate better chip formation and increase tool life. CVD inserts have a thinner coating to avoid premature flaking on the insert and be better functioning in combination with sharper edges.
All Rodeka 8 inserts are made of a KCMP30 grade. This multilayered coated carbide with advanced post coat treatment has a wide application in general and rough steel milling that works best in dry conditions. KCMP30 has improved edge toughness and reduces depth of cut notching. The grade's toughness also avoids work-piece sticking and greater integrity at elevated speeds.
Rodeka 8 tool bodies are available in a shell mill cutter style with diameters from 40mm to 80mm that are designed to improved blade machining, but also capable of pocketing, profiling and facemilling.