February 26, 2020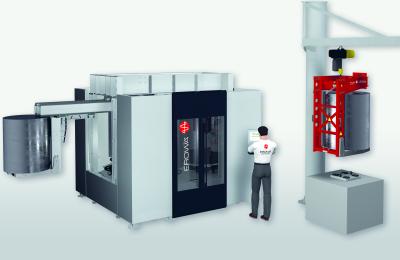 Workpieces with a maximum weight of 800kg and a size of up to Ø850 mm x 1,000 mm can be loaded onto the machine tool safely and reliably. The Robot Easy 800 is optimally suitable for moving pallets from our EROWA MTS system, which are predominantly used for milling and grinding.
The workpiece magazine can be configured with up to 12 magazine positions when using the EROWA MTS 400 workpiece carrier pallets (400 mm x 460 mm). The magazine plates can be rotated which makes it easier to fit palletized fixtures and tombstones with workpieces directly in the Robot magazine. The maximum magazine capacity is 7.0 tons.
With its compact monobloc design which requires only 20 sq. ft. of floor space, the Robot Easy 800 can be positioned by the machine, installed and made operational in no time. If production needs change, the function and magazine positions can be adapted to suit these requirements.
The stable transfer axis has a reach of 2,000 mm from the Robot's outer edge. This leaves sufficient space for manual work on the machine. The robot can serve machine table heights between 765 mm and 1,200 mm.
Related Glossary Terms
gang cutting ( milling)


gang cutting ( milling)

Machining with several cutters mounted on a single arbor, generally for simultaneous cutting.

grinding


grinding

Machining operation in which material is removed from the workpiece by a powered abrasive wheel, stone, belt, paste, sheet, compound, slurry, etc. Takes various forms: surface grinding (creates flat and/or squared surfaces); cylindrical grinding (for external cylindrical and tapered shapes, fillets, undercuts, etc.); centerless grinding; chamfering; thread and form grinding; tool and cutter grinding; offhand grinding; lapping and polishing (grinding with extremely fine grits to create ultrasmooth surfaces); honing; and disc grinding.

milling


milling

Machining operation in which metal or other material is removed by applying power to a rotating cutter. In vertical milling, the cutting tool is mounted vertically on the spindle. In horizontal milling, the cutting tool is mounted horizontally, either directly on the spindle or on an arbor. Horizontal milling is further broken down into conventional milling, where the cutter rotates opposite the direction of feed, or "up" into the workpiece; and climb milling, where the cutter rotates in the direction of feed, or "down" into the workpiece. Milling operations include plane or surface milling, endmilling, facemilling, angle milling, form milling and profiling.