September 02, 2016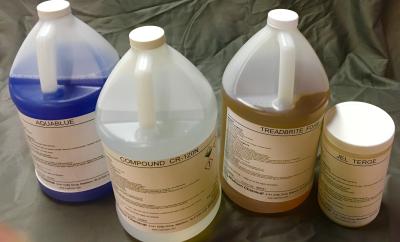 Madison Chemical introduces the ReStore Kit, a combination of several of its cleaning and surface preparation products, which are suited for many metalworking cleaning, surface preparation and passivation applications. The multi product kit comes in one box that contains one gallon of AquaBlue general-purpose, multimetal surface cleaner, one gallon of TreadBrite Foam acidic cleaner for multimetals, including stainless steel, one gallon of CR-120N nitric acid cleaner for passivation of stainless steel, a 2-pound container of Jel Terge powdered viscosity enhancer/gel builder, and detailed instructions.
This comprehensive kit allows users to clean, etch, remove surface oxides and prepare a variety of metal surfaces. When used with the Compound CR-120N this can help to start to passivate some 300 series stainless steels, where desired. Ideal uses include fabricated metal surfaces, especially where L series stainless is used and post-weld clean-up is required, where an exposed metal edge has been aggravated by CO2 laser cutting or in areas where sulphurized cutting oils and metalworking fluids have damaged stainless steel surfaces. It is ideal for field repair work, especially during or after equipment installation and commissioning, and makes an excellent add-on kit for OEM equipment because it can speed "sign off" on installs.
AquaBlue multimetal surface cleaner is an alkaline detergent, which is ideally suited for removal of dirt, oil, grease, sulphurized cutting oils or metalworking fluids from a variety of surfaces, including stainless. It can be used as a spray, in foaming or gelling applications, as a soak, in ultrasonic tanks and with pressure washers.
TreadBrite Foam is an acidic cleaner which while it can be used on many metal substrates was developed for cleaning and removing heat tint/weld burns from stainless steel surfaces. It is ideal for cleanup of severely fouled press brakes or other fabrication equipment, including removal of all Class I rouges and many Class II and Class III rouges. It can be used as a spray, soak, in foaming and gelling applications or in ultrasonic cleaners.
CR-120N is a nitric acid cleaner which is well suited for passivating stainless steel surfaces. It can be used as a spray, soak or combined with the powdered Jel Terge that is in the case box to form a "clingy" gel solution. This gel solution is effective on soils and deposits in high-heat areas like Class I, II and III rouges, which are problematic for many cleaning agents. In gel form, 2 gallons of CR-120N make-down solution will clean and help start to passivate 200 sq. ft. of a stainless steel's surface area. By using a gel solution option, a production group can eliminate the need for a large soak tank and still have an extended and safe dwell contact time of a solution on a parts surface.
Related Glossary Terms
metalworking


metalworking

Any manufacturing process in which metal is processed or machined such that the workpiece is given a new shape. Broadly defined, the term includes processes such as design and layout, heat-treating, material handling and inspection.

stainless steels


stainless steels

Stainless steels possess high strength, heat resistance, excellent workability and erosion resistance. Four general classes have been developed to cover a range of mechanical and physical properties for particular applications. The four classes are: the austenitic types of the chromium-nickel-manganese 200 series and the chromium-nickel 300 series; the martensitic types of the chromium, hardenable 400 series; the chromium, nonhardenable 400-series ferritic types; and the precipitation-hardening type of chromium-nickel alloys with additional elements that are hardenable by solution treating and aging.