May 26, 2023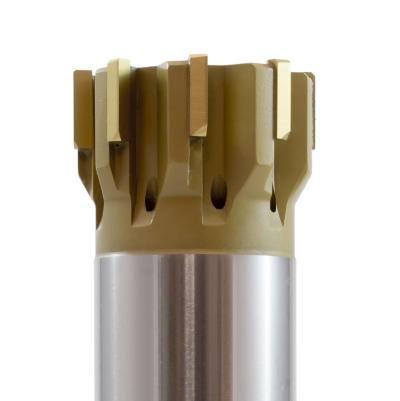 Diatool offers a Reamer Reconditioning Service which can retip, renew, and restore most major brands of high-performance reamers to OEM specs. This unique service includes replacing all blades, grinding a fresh bevel geometry, refurbishing the body of the reamer, and coating of the blades if required.
Diatool Reamer Reconditioning is ideal for solid and expandable monoblock reamers, expandable cutting rings, and replaceable head reamers. Diatool can provide multiple options in advanced coatings and blade materials using cermet, coated carbide or PCD. Unlike some major competitors, Diatool does not limit the times a reamer can be reconditioned, providing an even longer service life of the reamer with no compromise in tool life or cutting quality. Offering standard deliveries of 4-6 weeks and cost savings of 40 percent over new, Diatool's Reamer Reconditioning Service is ideal for machining operations struggling with long lead-times or non-responsive tooling vendors.
In addition to refurbishing, Diatool offers application consultation to improve existing tooling by offering the latest alternative geometries or coatings. Typical results are higher bore quality of the part, reduced cycle time, and significant CPU savings without reinvestment in new tooling.
Related Glossary Terms
grinding


grinding

Machining operation in which material is removed from the workpiece by a powered abrasive wheel, stone, belt, paste, sheet, compound, slurry, etc. Takes various forms: surface grinding (creates flat and/or squared surfaces); cylindrical grinding (for external cylindrical and tapered shapes, fillets, undercuts, etc.); centerless grinding; chamfering; thread and form grinding; tool and cutter grinding; offhand grinding; lapping and polishing (grinding with extremely fine grits to create ultrasmooth surfaces); honing; and disc grinding.

polycrystalline diamond ( PCD)


polycrystalline diamond ( PCD)

Cutting tool material consisting of natural or synthetic diamond crystals bonded together under high pressure at elevated temperatures. PCD is available as a tip brazed to a carbide insert carrier. Used for machining nonferrous alloys and nonmetallic materials at high cutting speeds.

reamer


reamer

Rotating cutting tool used to enlarge a drilled hole to size. Normally removes only a small amount of stock. The workpiece supports the multiple-edge cutting tool. Also for contouring an existing hole.