January 22, 2016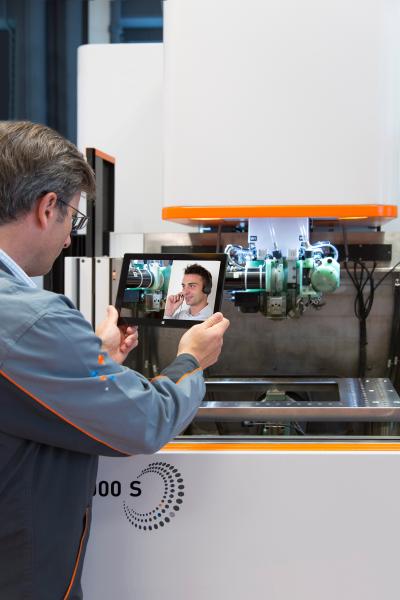 GF Machining Solutions, Lincolnshire, Ill., this week introduced rConnect, a new central communications platform for the company's milling, EDM and laser texturing machines. Advancing the Industry 4.0 vision of the smart factory of the future, rConnect offers the industry's most in-depth remote machine tool analysis, according to a Jan. 20 news release from the company.
The rConnect platform reportedly will be especially valuable to manufacturers seeking to optimize their competitiveness and machine uptime through the digitization of their facilities. The first phase of rConnect is Live Remote Assistance (LRA), which allows customer-authorized remote assistance by connecting machines to GF Machining Solutions' local diagnostics center and plants in real time. LRA enables remote diagnostics and inspection by a GF Machining Solutions technician or the manufacturer using the system.
LRA's customer cockpit serves as the user interface for the machine operator, maintenance manager or operations manager.
Through LRA, the company said, instances of unexpected machine downtime are minimized and downtime is reduced when an issue does occur, thanks to faster diagnoses and interventions. LRA allows a manufacturer to interact directly with GF Machining Solutions via audio, video, chat, whiteboard, file transfer, screen sharing and system access.
rConnect and LRA are powered by an instant virtual private network that allows highly secure access to the machine and is certified with TÜViT Trusted Product Certificate.
rConnect and LRA are the result of GF Machining Solutions' Industry 4.0 partnerships with leading European research institutes, including the University of Birmingham in the United Kingdom, the University of Geneva in Switzerland, the Swiss Federal Technical Institute in Zurich, as well as RWTH Aachen University and the Fraunhofer Institute, both located in Germany.
Related Glossary Terms
electrical-discharge machining ( EDM)


electrical-discharge machining ( EDM)

Process that vaporizes conductive materials by controlled application of pulsed electrical current that flows between a workpiece and electrode (tool) in a dielectric fluid. Permits machining shapes to tight accuracies without the internal stresses conventional machining often generates. Useful in diemaking.

gang cutting ( milling)


gang cutting ( milling)

Machining with several cutters mounted on a single arbor, generally for simultaneous cutting.

milling


milling

Machining operation in which metal or other material is removed by applying power to a rotating cutter. In vertical milling, the cutting tool is mounted vertically on the spindle. In horizontal milling, the cutting tool is mounted horizontally, either directly on the spindle or on an arbor. Horizontal milling is further broken down into conventional milling, where the cutter rotates opposite the direction of feed, or "up" into the workpiece; and climb milling, where the cutter rotates in the direction of feed, or "down" into the workpiece. Milling operations include plane or surface milling, endmilling, facemilling, angle milling, form milling and profiling.