June 30, 2021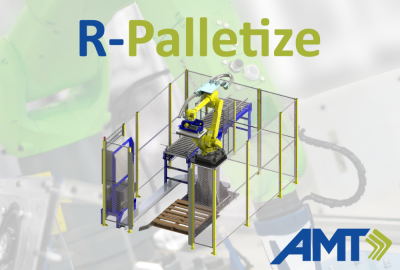 Applied Manufacturing Technologies (AMT), North America's largest independent full-service systems integration provider supporting manufacturers, robot companies, systems integrators, line builders, and users of robotic automation worldwide, today introduced a new product, R-Palletize, a flexible robotic palletizing station.
R-Palletize is a configurable palletizing station which allows low-volume, high-mix manufacturers to use a single robotic cell for palletizing a variety of product patterns. R-Palletize is available in four hardware configurations which include a FANUC America M710iC/50H robot to handle cases up to 40 pounds, a Rockwell Automation control system, and optional end-of-arm-tooling (EOAT) to suit the application. Designed for rapid installation and easy setup, R-Palletize offers changeover time in as little as five minutes from the user interface.
"With the recent disruptions to manufacturing and supply chains, manufacturers are turning to automation to fill gaps in the workforce," said President and CEO Michael Jacobs. "AMT has received many requests to provide flexible robotic palletizing cells to manufacturers from low-volume, high-mix producers. We developed R-Palletize to fill this need, which has been increasingly requested by our customers."
Related Glossary Terms
turning


turning

Workpiece is held in a chuck, mounted on a face plate or secured between centers and rotated while a cutting tool, normally a single-point tool, is fed into it along its periphery or across its end or face. Takes the form of straight turning (cutting along the periphery of the workpiece); taper turning (creating a taper); step turning (turning different-size diameters on the same work); chamfering (beveling an edge or shoulder); facing (cutting on an end); turning threads (usually external but can be internal); roughing (high-volume metal removal); and finishing (final light cuts). Performed on lathes, turning centers, chucking machines, automatic screw machines and similar machines.