June 01,2011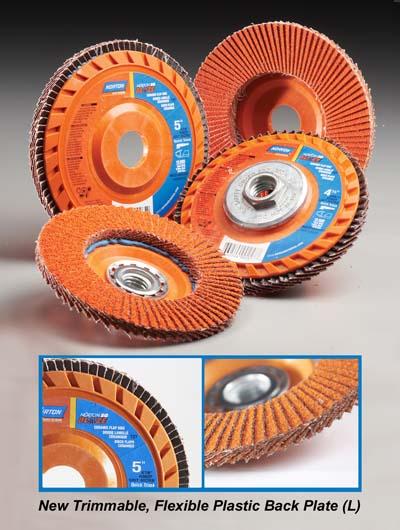 Saint-Gobain Abrasive Inc.'s Norton brand has introduced two new Norton Quick Trim Flap Discs for the metal fabricating industry. The SG Blaze R980P and TwinStar Quick Trim Flap Discs feature a new flexible, easily-trimmed plastic back plate, allowing full use of the flaps. The plastic backing can be easily trimmed back to expose the flaps for extended product life. This reduces materials costs by allowing 100 percent of the abrasive material to be consumed.
The Quick Trim Norton SG Blaze R980P Type 27 flap discs feature the latest-generation ceramic alumina abrasive grain and an improved supersize grinding aid to provide 50-200 percent longer life than any flap disc on stainless steel, cobalt, chrome, Inconel, titanium and other hard-to-grind materials. Blaze R980P Quick Trim flap discs offer the highest productivity and lowest total grinding cost. The advanced supersize grinding lubricant also provides faster and cooler cutting for improved part finish and integrity. Durable, Y-weight polyester flaps significantly improve product life, grain retention and fray resistance. Discs in 4 ½", 5" and 7" sizes are also available with 5⁄8"-11 hubs for quick disc changes and less downtime.
Norton Quick Trim TwinStar Type 27 flap discs are engineered for light stock removal, blending and finishing all in one application. They offer excellent performance and efficiencies on mild carbon steel, ferrous metals and cast iron applications. Higher-performance abrasive flaps are mounted on the new, easy-to-trim plastic back plate for full use of each flap. Discs in 4 ½", 5" and 7" sizes are also available with 5⁄8&"-11 hubs for quick disc changes and less downtime.
Related Glossary Terms
abrasive


abrasive

Substance used for grinding, honing, lapping, superfinishing and polishing. Examples include garnet, emery, corundum, silicon carbide, cubic boron nitride and diamond in various grit sizes.

backing


backing

1. Flexible portion of a bandsaw blade. 2. Support material behind the cutting edge of a tool. 3. Base material for coated abrasives.

grinding


grinding

Machining operation in which material is removed from the workpiece by a powered abrasive wheel, stone, belt, paste, sheet, compound, slurry, etc. Takes various forms: surface grinding (creates flat and/or squared surfaces); cylindrical grinding (for external cylindrical and tapered shapes, fillets, undercuts, etc.); centerless grinding; chamfering; thread and form grinding; tool and cutter grinding; offhand grinding; lapping and polishing (grinding with extremely fine grits to create ultrasmooth surfaces); honing; and disc grinding.