March 01,2014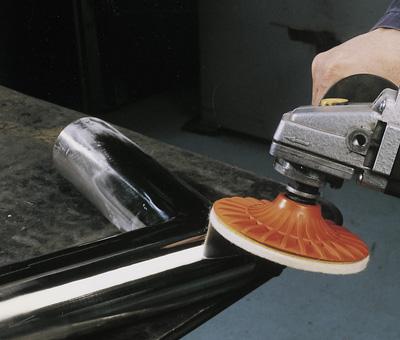 Walter Surface Technologies announces three new solutions to its QUICK-STEP line of surface finishing and polishing products. The QUICK-STEP FINISHER, QUICK-STEP BLENDEX, and QUICK-STEP FLEX products are the latest additions to the Walter QUICK-STEP family. Featuring patented Velcro support, with a central pin to ensure proper placement and safety, the new time-saving products are designed as the industry standard for finishing ultra-clean stainless steel surfaces.
Designed for surface finishing, the new variable-speed QUICK-STEP FINISHER tool is compact, lightweight and ideal for sanding, finishing and polishing tasks. Featuring an extra-large gear and easily adjustable DYNAMAX electronic speed control, QUICK-STEP FINISHER has an up-to-date motor design with plenty of torque even at lower speeds. Created with the same high quality as the QUICK-STEP Big-Buff, the QUICK-STEP FINISHER features a smaller frame and ergonomically crafted design suitable for work in small, confined spaces, allowing users to quickly complete even the toughest finishing jobs with ease.
The newly updated QUICK-STEP BLENDEX surface conditioning discs feature more consistent performance and double the disc life. The result of more than two years of Walter research and development, the new QUICK-STEP BLENDEX is designed to be the best conditioning discs on the market today. For use with Walter QUICK-STEP backing pads, QUICK-STEP BLENDEX features non-woven construction and is specifically designed to prepare surfaces for the final finishing treatment such as painting on steel, aluminum and stainless steel materials, leaving a uniform finish every time.
The flexible new QUICK-STEP FLEX finishing disc is designed to fit all sanding applications with the advantages of a flap disc. The long-lasting disc, the result of more than two years of R&D (like its BLENDEX cousin), offers surface finishing and a high removal rate of grinding and finishing welds. Designed as the first stage in a multi-step finishing process, the new QUICK-STEP FLEX delivers all the weld breaking power of Enduro-Flex--with an added refined touch to ensure a brilliant surface finish.
"The Walter family of QUICK-STEP finishing products is in growing demand by industries where high quality surfaces are required, and where bringing out a specific finish on ferrous and nonferrous metals is a top priority. Our rigorous R&D work is paying off. The upgraded QUICK-STEP product line delivers longer life, higher removal rates and quicker time to a brushed or mirror finish," said Jonathan Douville, Product Manager, Walter Surface Technologies International.
Available in early March, the new QUICK-STEP FINISHER with QUICK-STEP BLENDEX and QUICK-STEP FLEX can work well on individual tasks or together in a sequence (as a complete kit) to obtain best results in blending and polishing metal surfaces.
Related Glossary Terms
backing


backing

1. Flexible portion of a bandsaw blade. 2. Support material behind the cutting edge of a tool. 3. Base material for coated abrasives.

grinding


grinding

Machining operation in which material is removed from the workpiece by a powered abrasive wheel, stone, belt, paste, sheet, compound, slurry, etc. Takes various forms: surface grinding (creates flat and/or squared surfaces); cylindrical grinding (for external cylindrical and tapered shapes, fillets, undercuts, etc.); centerless grinding; chamfering; thread and form grinding; tool and cutter grinding; offhand grinding; lapping and polishing (grinding with extremely fine grits to create ultrasmooth surfaces); honing; and disc grinding.

polishing


polishing

Abrasive process that improves surface finish and blends contours. Abrasive particles attached to a flexible backing abrade the workpiece.