June 01, 2010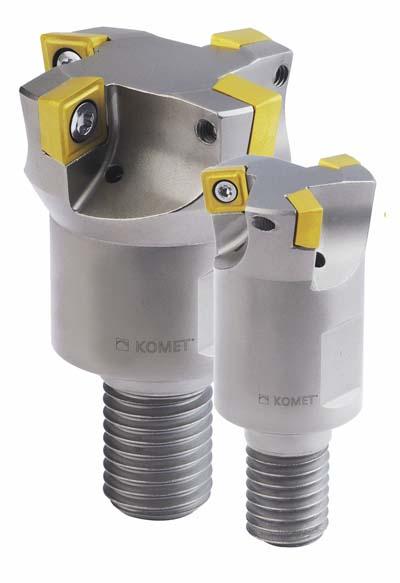 With the KOMET of America Inc. Quatron hi.feed milling cutters, KOMET says it is replicating the success of its KUB Quatron drills in a new range of milling cutters. For roughing operations, this tool variant enables machinists to use the four-effective indexable inserts for both drilling and plunge milling. The most striking feature of these universal tools is the four-effective Quatron indexable insert, according to the company. For years it has been the preferred solution for drilling operations, remarkable not only for the number of its cutting edges, but above all for its rapid removal of high chip volumes.
These properties are now replicated in the new KOMET Quatron hi.feedmilling cutters. In addition, the Quatron indexable inserts also have a radial cutting action, which affords a considerably higher degree of flexibility in plunge and pocket milling by comparison with two- or three-edged inserts. Machinists who need to cut deep grooves or large cavities in their workpieces often opt for plunge milling due to the dimensions or cutting capacities of the tools or the performance of the spindle inside the machine. Rather than boring with the use of multiple boring tools, it is possible to achieve various diameters and complex contours in one roughing operation by milling with an axial and a horizontal feed.
Another bonus is that the KOMET Quatron hi.feed can use the very same indexable inserts for drilling as well as milling. The BK8425 coating delivers exceptional tool life while enabling universal use of these milling cutters for steel, cast iron and stainless materials.