March 21, 2016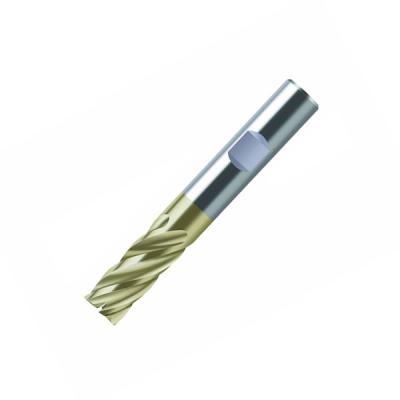 Walter has introduced a new version of its Walter Prototyp Proto▪maxST high-performance, solid-carbide milling tool designed for optimal performance on steel with secondary applications in stainless steel. This new entry in the Walter Prototyp lineup is called the Proto·maxST Z-5, available with the same tough yet wear-resistant TAZ coating that is offered in the original 3- and 4-flute variations of the Proto·maxST.
The new mill has five cutting edges, differing from the previous entries that were limited to three and four. It is available with a Weldon shank configuration for secure clamping, with or without corner radius, and without a reduced neck for greater stability by using the maximum amount of carbide. It possesses a helix angle of 35° and is offered in the diameter range of 6-25 mm.
The new Proto·maxST Z-5 delivers high productivity by reducing process times, along with high process reliability by significantly reducing the risk of tool breakage. In addition, the TAZ coating dramatically increases tool life, and costs are lowered because of savings on coolant, as dry machining is the recommended approach.
Importantly, the Proto·maxST Z-5 is well-suited for dynamic milling, a highly productive machining strategy that is growing in popularity. Dynamic milling is a method of defining toolpaths so as to maintain a constant tool engagement angle. This allows a large DOC to be taken, which fully utilizes the entire cutting edge of the tool. This is normally combined with radial chip thinning, accomplished by taking a small radial DOC; around 10-15 percent of the tool diameter is actually engaged in the cut. This combination allows for very high speeds, plus very high feed rates and deep DOCs, typically leading to high material-removal rates and lower cutting forces.