July 17, 2018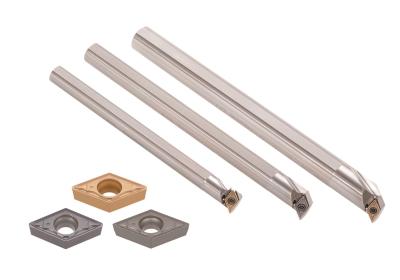 Tungaloy is introducing Premium Internal Bar – DPMT series for efficient ID turning. This new ID turning tool series reduces cutting force by 10 percent compared with conventional tools, while promising end users with machining stability and superior surface finish quality.
The new Premium Internal Bar – DPMT series offers the same proven chip evacuation capability as Tungaloy's popular internal turning tool series – Stream Jet Bar. The new holder body is made of special alloy steel and incorporates the DPMT insert with a greater flank clearance of 11° than the conventional 7° with the DCMT style. This optimizes vibration stability as well as cutting load reduction during demanding internal boring operations. The DPMT series is a perfect tool for manufacturers who are looking for vibration dampening measures and surface finish quality improvement.
The Premium Internal Bar – DPMT series features a versatile –PS style chipbreaker with proven performance in a variety of operations, and three grades: T9215 CVD-coated grade for turning steel, NS9530 cermet grade for finish turning, and AH8015 PVD-coated grade for high temperature alloys. The new holder lineup covers working diameters ranging from 15 mm to 22 mm or from 0.6" to 0.87", available in special alloy steel shanks, as well as carbide shanks.
Product at a Glance:
Antivibration shank thanks to the use of special alloy steel
Holder is designed for reduced cutting load as well as maximum performance at the minimum working diameter.
DPMT insert with 11° insert flank clearance offers reduced cutting load
Additional Products from Tungaloy America Inc.