February 01, 2016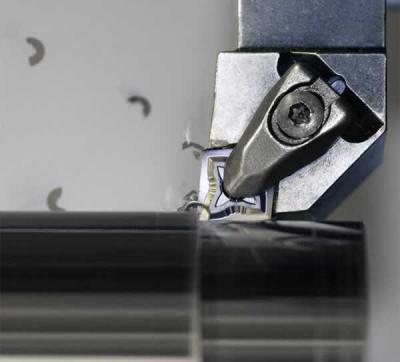 Dormer Pramet, Elgin, Ill., now offers Pramet SF and SM geometries for machining of high temperature alloys and stainless steel, the company announced Jan. 27.
The two geometries are new to the Dormer Pramet indexable offering.
The SF geometry features a sharp positive geometry with an inclination cutting edge of 14.5° and is said to be suitable for finishing applications in continuous cut with very low cutting forces.
The SM chip-breaker is reportedly a wear-resistant, universal geometry for medium machining (finishing up to roughing), and suitable for continuous and interrupted cut.
According to Dormer Pramet, both new chip-breakers are suitable for materials with poor machinability, such as stainless steels, mild steels and high-temperature alloys. The new geometries are available in a variety of grades and have been designed to promote low cutting forces and prevent work-hardening, which reportedly reduces the risk of vibration when turning thin-walled components.
The new geometries also are suitable for use with two new turning grades now available. The PVD coated Pramet T6310 grade features enhanced cutting edge reliability and strength with intermediate Cobalt content substrate for additional hardness and increased abrasion resistance, which is said to enable prolonged tool life. Pramet T6310's triple coating provides durability for higher cutting speeds when machining stainless steel, heat-treated and hardened materials, according to the company.