January 24, 2019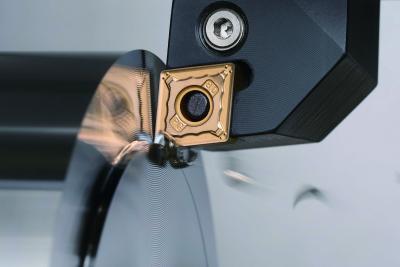 Kyocera Precision Tools has expanded the popular CA025P CVD-coated carbide series for steel turning to include all new positive insert styles. The next-generation CA025P series features multilayer CVD coatings with a layer using a thick film of aluminum oxide (Al2O3) for excellent heat resistance.
Utilizing cemented carbide as a base material ensures excellent fracture resistance, long-term performance and longer tool life. These new cutting tools can accommodate a wide range of machining applications from roughing to finishing by using a wide variety of chipbreakers. Kyocera aims to support customers by reducing the frequency of insert replacements and improving production yield.
Related Glossary Terms
aluminum oxide


aluminum oxide

Aluminum oxide, also known as corundum, is used in grinding wheels. The chemical formula is Al2O3. Aluminum oxide is the base for ceramics, which are used in cutting tools for high-speed machining with light chip removal. Aluminum oxide is widely used as coating material applied to carbide substrates by chemical vapor deposition. Coated carbide inserts with Al2O3 layers withstand high cutting speeds, as well as abrasive and crater wear.

chemical vapor deposition ( CVD)


chemical vapor deposition ( CVD)

High-temperature (1,000° C or higher), atmosphere-controlled process in which a chemical reaction is induced for the purpose of depositing a coating 2µm to 12µm thick on a tool's surface. See coated tools; PVD, physical vapor deposition.

turning


turning

Workpiece is held in a chuck, mounted on a face plate or secured between centers and rotated while a cutting tool, normally a single-point tool, is fed into it along its periphery or across its end or face. Takes the form of straight turning (cutting along the periphery of the workpiece); taper turning (creating a taper); step turning (turning different-size diameters on the same work); chamfering (beveling an edge or shoulder); facing (cutting on an end); turning threads (usually external but can be internal); roughing (high-volume metal removal); and finishing (final light cuts). Performed on lathes, turning centers, chucking machines, automatic screw machines and similar machines.