November 13, 2019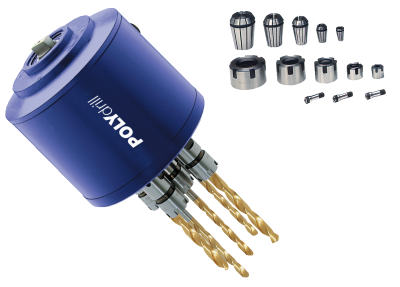 Who doesn't know the old saw "Time is money?" Using POLYdrill multiple-spindle heads from SUHNER, many have taken advantage of this wisdom and made money the old fashioned way for 30 years and counting.
In its catalog in 1982, SUHNER introduced a new line of multiple spindle heads, which combined modern design features with high drilling performance in a fairly compact package.
Since then, SUHNER has built thousands of multiple spindle heads with gains in know-how invested in improved technology. This basic philosophy continues.
Significant gains in productivity and output are achieved through the application of standard and simultaneous multi-operation components at a relatively low investment cost.
The program range for POLYdrill multiple spindle heads is regularly up-dated and expanded. Today, our offering includes adjustable multiple spindle heads for two, three and four spindles in six different capacity classifications.
Custom-made, application-specific, fixed-spacing heads with up to 144 spindels are an enormous increase in productivity.
In addition to multiple spindle heads, SUHNER has a variety of other POLYdrill components including angle heads
for drilling, tapping and milling operations as well as back facing heads for drilling and countersinking operations.