July 27, 2021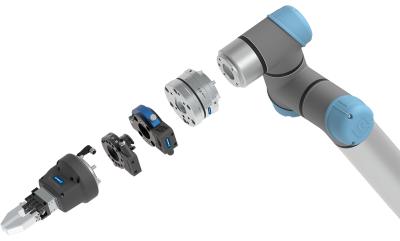 As more and more manufacturers discover cobots, including major players in industrial robotics as well as specialized cobot pioneers, SCHUNK has established its ready-to-use Plug & Work portfolios that radically simplify the equipment of the Cobot front-end.
The customized Plug & Work portfolios include pneumatic and electric grippers, co-act gripping modules for collaborative applications, and quick-change systems. Whereas the pneumatic grippers are easy to use, have a high-performance density and are attractive in price, they are especially predestined for conventional automated applications, where primarily its robustness is sought-after. Electric grippers are flexibly adjustable to force or stroke, are versatile in use, and offer many variants. Plugins simplify programming, particularly for those users who are new to automation, because they enable a fast and simple start into process automation.
Broad selection of components
The segment of pneumatically controlled actuators includes modular systems of the industry-proven, multi-tooth guided parallel gripper PGN-plus-P, the centric gripper PZN-plus, the universal gripper JGP with the best value for money, as well as the long-stroke grippers KGG, and PSH. Micro valves for control of the pneumatic modules are already integrated in the Plug & Work adapters. Moreover, the selection of components includes electric grippers for small components EGP, electric grippers type Co-act EGP-C, as well as the versatile SCHUNK EGH with a freely programable overall stroke of 80 mm, which is virtually the ideal gripper for starting cobot-supported automation. But the Plug & Work portfolio also includes the manual change system SHS with integrated air feed-through, electric feed-through and an optionally integrated lock monitoring. It allows flexible use of cobots and SCHUNK grippers. Other actuators can be exchanged in just a few working steps.
Diverse applications
Cobot applications can be easily adapted to different application cases because every component is flexibly combinable and the whole offering of accessory products and options listed in the SCHUNK catalog are available. Solutions can be intuitively configured with the SCHUNK online configurator, based on the eCATALOG solutions technology of CADENAS. It takes just one click and all common CAD formats (optionally two- or three-dimensional ones) can be downloaded. Thereby a combinational logic ensures that only configurations can be implemented, which are feasible from a technical and mechanical point of view. The ready-to connect Plug & Work portfolios cover diverse fields of application: the ones of common automation but also of collaborative applications. They are equally suitable for people without any experience in automation and experts of the metal-cutting industry, automotive and electronics industry, logistics and of many other industries, who want to discover the potentials of robot-based automation by using cobots.
Related Glossary Terms
computer-aided design ( CAD)


computer-aided design ( CAD)

Product-design functions performed with the help of computers and special software.

parallel


parallel

Strip or block of precision-ground stock used to elevate a workpiece, while keeping it parallel to the worktable, to prevent cutter/table contact.

robotics


robotics

Discipline involving self-actuating and self-operating devices. Robots frequently imitate human capabilities, including the ability to manipulate physical objects while evaluating and reacting appropriately to various stimuli. See industrial robot; robot.