January 28, 2022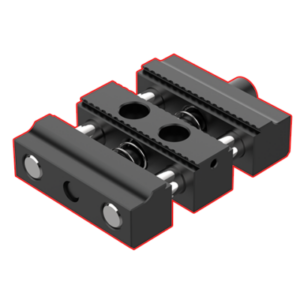 5th Axis Inc. (www.5thaxis.com) co-owner Steve Grangetto announced today that the firm would manufacture and sell pin vise fixtures for 3, 4, and 5 axis CNC machines. Pin Vises are high-precision, quality fixtures featuring a skeleton design that makes them lighter, more compact, and cost-effective.
Pin Vises have a small footprint, allowing room for more parts on a table resulting in increased throughput. Pin Vises are also lightweight making them ideal for automated applications where weight is a consideration.
"The Pin Vise design performs well. We have successfully used Pin Vises for in-house machining for years, and decided to make them available to the public," explains co-owner Chris Taylor. "The compact design and the price point make the Pin Vises perfect for high-volume applications."
Serrated teeth on each jaw provide maximum grip on stock less than 35HRc. Pin Vises also have built-in 45° dovetails for harder material and require less clamping force. Dovetail clamps wedge the stock down, ensuring a secure hold on much less stock than vise-mounted parts.
Available in 4" and 6" models, Pin Vises provide reliable clamping ranges of 0.25 to 2.50 inches. Pin Vises are direct mount ready from the top-down utilizing standard socket head cap screws. Operators bolt the vise directly to mounting plates, adapters, or t-slots on the machine table. 5th Axis also offers tombstones, pyramids, and plates for the Pin Vise configured with 96mm RockLock quick-change systems.
Founded in 2004, 5th Axis Inc. is an industry leader in automated production, manufacturing, and machining. 5th Axis is a turn-key solution provider serving customers around the globe focusing on product development, milling, turning, assembly, plating, finishing, and logistics.