December 12, 2019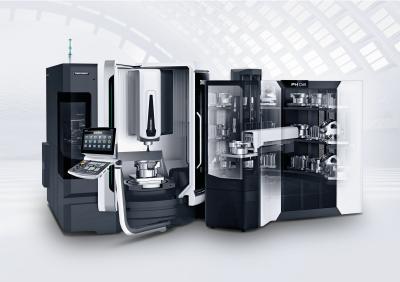 A new PH Cell pallet system with a footprint of 10.7 m² from DMG MORI is available for the DMU 65 monoBLOCK machine. The side loading into the machine tool guarantees optimal ergonomics and accessibility to the workspace.
The pallet system has a modular design and offers the highest flexibility. The basic version with one shelf module can accommodate up to 12 500 mm x 500 mm pallets, 16 400 mm x 400 mm pallets or up to 20 320 mm x 320 mm pallets distributed over three or four shelves. The system can also be expanded by a second shelf module, making up to 40 pallet storage spaces available.
The second shelf module can be retrofitted without the need for any additional space. A separate and optionally rotatable setup station allows ergonomic setup while machining. The PH Cell is an attractively priced automation unit in the DMG MORI Vertico design and, with a defined interface and a modular principle, is able to be put into operation very quickly.
Related Glossary Terms
modular design ( modular construction)


modular design ( modular construction)

Manufacturing of a product in subassemblies that permits fast and simple replacement of defective assemblies and tailoring of the product for different purposes. See interchangeable parts.