March 24, 2020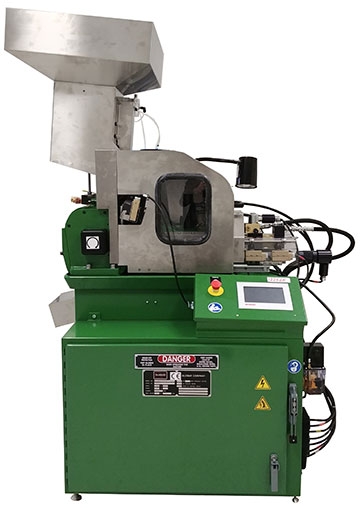 Glebar Co. delivered a solution for grinding deodorant balls while reducing cycle times and improving throughput. Glebar developed ball grinding for the golf ball industry in the 1960s using centerless grinding fundamentals. The process was adapted to grind deodorant balls and other spherical or cylindrically shaped components. Glebar machines can grind most hard-to-turn materials such as carbon fiber, fiberglass and polypropylene.
In this application, Glebar designed and manufactured its PG-9BHD centerless form grinder for 1" and 1.4" deodorant balls while meeting the customer's cycle time and surface finish requirements. The grinding process was used to remove mold flash around the equator of the ball while imparting a texture used to transfer the deodorant adequately without bottle leakage.

"Using a 10" wide work wheel, the PG-9BHD produces multiple components per cycle while maintaining tolerances of +/-0.002" in this simple application," said John Bannayan, chief technical officer at Glebar. "Finer tolerances can be achieved depending on the material being processed and the machine platform that the application calls for. For small super magnet spheres (~0.060") made from rare earth materials such as Neodymium, for example, a servo-based system can produce multiple spheres precisely from a sintered cylinder."

In this specific application a stainless steel hopper automatically drops deodorant balls into the ball feeder channeling them into singular stations on the plunge grinder. Within a 10-second cycle, up to eight 1" balls or up to six 1.4" balls can be ground simultaneously. The oscillating regulating wheel assembly rotates the deodorant balls randomly improving sphericity.
The PG-9BHD is also available in a CE-certified design featuring an interlocking safety enclosure and touch screen HMI. A servo-driven version is also available, which includes all the benefits of connectivity, remote connection, gaging, automation integration and precise positioning.
Related Glossary Terms
centerless grinding


centerless grinding

Grinding operation in which the workpiece rests on a knife-edge support, rotates through contact with a regulating or feed wheel and is ground by a grinding wheel. This method allows grinding long, thin parts without steady rests; also lessens taper problems. Opposite of cylindrical grinding. See cylindrical grinding; grinding.

flash


flash

Thin web or film of metal on a casting that occurs at die partings and around air vents and movable cores. This excess metal is due to necessary working and operating clearances in a die. Flash also is the excess material squeezed out of the cavity as a compression mold closes or as pressure is applied to the cavity.

grinding


grinding

Machining operation in which material is removed from the workpiece by a powered abrasive wheel, stone, belt, paste, sheet, compound, slurry, etc. Takes various forms: surface grinding (creates flat and/or squared surfaces); cylindrical grinding (for external cylindrical and tapered shapes, fillets, undercuts, etc.); centerless grinding; chamfering; thread and form grinding; tool and cutter grinding; offhand grinding; lapping and polishing (grinding with extremely fine grits to create ultrasmooth surfaces); honing; and disc grinding.