August 03, 2022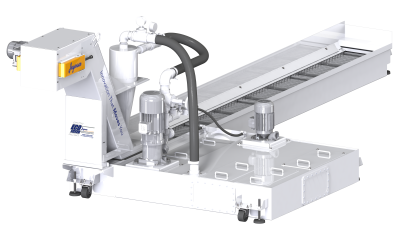 Material handling innovators Jorgensen Conveyor and Filtration Solutions announces the introduction of three new systems that will reduce labor and improve performance throughout the entire machining process.
The new PermaClean Filtration System eliminates sludge build up by adding optional agitation to the coolant collection tank. Eductor nozzles keep coolant in motion, suspending chip particulates and preventing them from settling. Collection tanks equipped with PermaClean combined with cyclonic filtration are virtually maintenance free and significantly reduce the labor required for frequent tank cleaning.
PermaClean incorporates into Jorgensen's multi-step filtration system that includes the EcoFilter conveyor and filter cell, additional filtration options and fine filtration for high-pressure applications. It also adapts as an option to improve the performance of any Jorgensen filtration system on the market.
To further reduce coolant tank maintenance, Jorgensen now offers Will-fill, a revolutionary new metalworking fluid optimizer. Will-fill combines automatic volume measurement and metalworking fluid analysis with faultless filling, permanent conditioning and timely reporting to provide worry-free coolant care.
The addition of PermaClean and Will-fill to Jorgensen's FlexFiltration portfolio uniquely positions the company to deliver complete, maintenance-free conveyor and filtration solutions – allowing users to return their focus to machining.
FlexForce is Jorgensen's new high-pressure coolant system that dramatically outperforms ordinary flood systems. Available in 500 and 1,000-PSI options, FlexForce breaks through the heat-generated vapor barrier created at the cutting tool and workpiece that can cause surface deformities and damage tooling. FlexForce penetrates this barrier and gets coolant directly to the cutting zone, improving lubrication and heat dissipation, speeds and feeds and chip control. Plus, FlexForce increases coolant and tool life and provides improved surface finishes.
Jorgensen will feature PermaClean, FlexForce and Will-fill at IMTS 2022, Sept. 12-17, in Chicago, Illinois, along with the company's recently released modular FlexFiltration line, chip processing systems, conveyors and the new Auger Assist Conveyor that handles higher chip volumes and decreases labor required for chip hopper management on machines with a cone/auger discharge system.
Related Glossary Terms
coolant


coolant

Fluid that reduces temperature buildup at the tool/workpiece interface during machining. Normally takes the form of a liquid such as soluble or chemical mixtures (semisynthetic, synthetic) but can be pressurized air or other gas. Because of water's ability to absorb great quantities of heat, it is widely used as a coolant and vehicle for various cutting compounds, with the water-to-compound ratio varying with the machining task. See cutting fluid; semisynthetic cutting fluid; soluble-oil cutting fluid; synthetic cutting fluid.

metalworking


metalworking

Any manufacturing process in which metal is processed or machined such that the workpiece is given a new shape. Broadly defined, the term includes processes such as design and layout, heat-treating, material handling and inspection.