March 17, 2022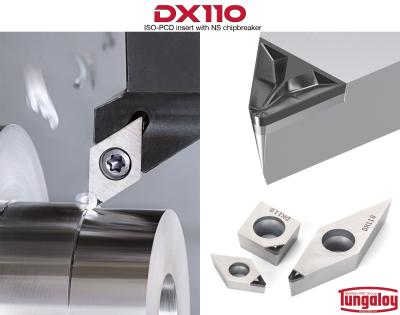 Tungaloy's PCD turning inserts now feature three-dimensional NS chipbreaker that provides unparalleled chip control in non-ferrous applications for improved productivity.
Long continuous chips generated during the machining of aluminum or copper alloy parts with a conventional PCD insert that has no integrated chipbreaking geometry often cause scratching of the machined surface, exacerbating productivity and resulted surface quality.
New NS chipbreaker features a three-dimensional chipbreaker that is directly engraved on the PCD tip using the latest technology. This allows the generation of short chips during the machining of gummy metals such as aluminum and copper alloys, significantly reducing machine downtime due to chip associated troubles.
Designed to cater to a wide cutting depth range from extremely light up to 2.0 mm (.079″) DOC, the NS chipbreaker allows a single PCD insert to handle operations from roughing to finishing, enabling users to benefit from the integration of machining processes and reduced insert inventory with improved productivity.
Total of ten new PCD inserts with NS chipbreaker are introduced in DX110 grade that provides the insert with secure edge line for high quality mirror-like surface finish.
Additional Products from Tungaloy America Inc.