May 12,2012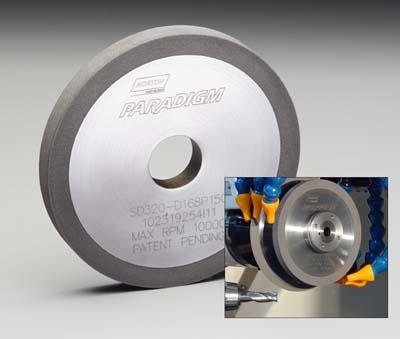 Saint-Gobain Abrasives has introduced Norton Paradigm Diamond and CBN Wheels which are positioned in the "Best" tier of Norton grinding products. Paradigm wheels feature a new proprietary, patent-pending bond delivering high grinding performance on carbide and high-speed steel round tool fluting, resulting in exceptionally fast cycle times and low cost per parts.
"The new patent pending bond on Paradigm Diamond and CBN wheels enables high performance one-pass flute grinding for highly efficient round tool manufacturing operations," said Matt Simmers, Product Manager at Norton.
For maximum productivity, new Norton Paradigm wheels are online and offline truable. Wheels are wear/load resistant for superior grinding on 6 percent to 12 percent cobalt, and offer better control over core growth. A high grain retention and uniform structure provides a high G-ratio (ratio of material removal rate versus wheel wear) up to 2.5x longer wheel life and a 30 percent higher material removal rate than other superabrasive wheels. Paradigm Diamond and CBN Wheels also offer low specific cutting energy, which enables faster grinding with a lower power draw and less burn.
All Paradigm Diamond and CBN Wheels are custom-manufactured to precisely meet end-user requirements. Wheels are available for Anca, Makino, Rollomatic, Star, Walter and other leading grinding systems. Diamond wheels are available for tungsten carbide and CBN wheels are offered for high-speed steel applications.