June 02,2017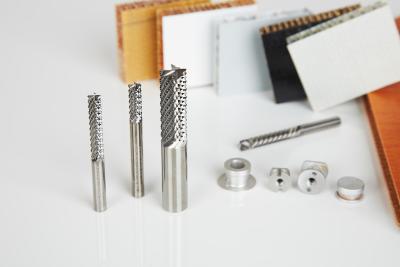 Controx presents the Panel Cut line of tools, which reportedly allow feed rates up to 400 ipm for maximum productivity and a clean surface finish. Designed specifically for machining lightweight composite sandwich panels, these shank tools employ sophisticated tool geometry to drill through sandwich panels with no delamination on the glass or carbon fiber skins or flagging of the honeycomb in between.
A special tooth design with stabilized tips provides increased tool life. Additional relief on router tips provide added strength and aggressiveness for demanding materials like Nomex, Kevlar, and aluminum. They are ideal for profiling operations as well as drilling.
Available in solid carbide, Controx stocks the Panel Cut in ¼" and ½" diameters (+/-0.0005"), and in 5/8" and 1-1/4" lengths of cut so that panel sizes up to 1-1/4" can be accomplished in one pass.
Controx also stocks a tool with a sophisticated tool geometry for aluminum skinnned sandwich panels.