September 13, 2012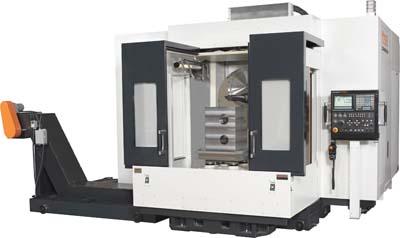 Mazak Corp.'s ORBITEC 20 employs a unique headstock design to generate turned features on large valves and other big, odd-shaped parts with ease and accuracy. This large-part machining center also integrates with other Mazak products to form a Multi-Tasking solution with productivity advantages.
For example, the ORBITEC 20 can be integrated with the heavy-duty INTEGREX i-630V 5-axis machine and pre-engineered PALLETECH Manufacturing System to achieve a fully automated manufacturing cell that can provide the flexibility required for shorter product life cycles, reduce in-process inventory and allow for just-in-time production.
Equipped with a standard two-pallet changer, along with the availability of Mazak's PMC-WEB cell controller software, the ORBITEC 20 easily pairs with the PALLETECH. Because both the ORBITEC and INTEGREX machines utilize a common pallet size, parts can undergo various turning operations on the ORBITEC 20 and then transfer over to the INTEGREX via the PALLETECH for final processing without having to be re-fixtured. With the PMC-WEB cell controller software over standard PCs and networks, shop management can monitor operations, view and change schedules on-the-fly, manage part program files from anywhere on the network, track tool life/breakage and issue instructions to the shop floor. Users are able to interrupt a planned machining queue and produce an emergency part with no cost penalty.
The ORBITEC 20's patented headstock effectively generates turned features on parts by keeping the workpieces clamped and stationary, moving only the cutting tool. As an internally counter balanced system, the ORBITEC 20's headstock, with 40 hp (30 kW), 600-rpm integrated spindle motor, keeps tool tips facing either toward or away from the centerline of rotation while tools orbit around workpieces. This provides stable precision machining and less part interference because tools do not protrude beyond the rotating headstock when working on larger diameters.
The headstock design is a circle, as opposed to linear slides, within a circle for accurate linearly interpolated X-axis tool movement. For increased part accessibility, the machine's X-axis stroke measures 11.02", (280mm), while its U, V, and Z-axis strokes are 23.62" (600mm), 23.62" (600mm), and 48.43" (1,230mm) respectively. The machine turns diameters up to 20" (508mm), depending on the tools being used, on parts fitting into a working area of 41.34" (1,050mm) in diameter and 51.18" (1,300mm) in height.
Part processing versatility is increased with the ORBITEC 20's wide range of machining operations, including generating phonographic finishes on flange surfaces, cutting tapered bores, and grooving in feed-out operations. The machine also does trepanning, threading, internal grooving, drilling and concave machining.