October 27, 2016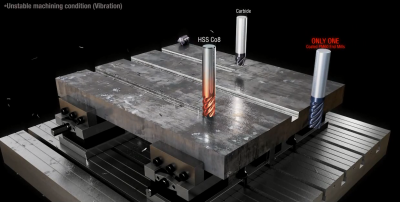 YG-1 says its ONLY ONE endmills are made of a new composition of P/M accompanied by the latest coating technology, giving this tool excellent wear and shock resistance. The substrate/coating combination provides for better adhesion and a stronger cutting edge without compromising shock resistance.
The customer will have the ability to have much higher (elevated) speeds and feeds than HSS without the fear of catastrophic failure in unstable to extremely unstable conditions. Used as a real "problem solver" the ONLY ONE endmill can run up to as fast as generic carbide endmills in terms of speeds and feeds.
Related Glossary Terms
endmill


endmill

Milling cutter held by its shank that cuts on its periphery and, if so configured, on its free end. Takes a variety of shapes (single- and double-end, roughing, ballnose and cup-end) and sizes (stub, medium, long and extra-long). Also comes with differing numbers of flutes.

high-speed steels ( HSS)


high-speed steels ( HSS)

Available in two major types: tungsten high-speed steels (designated by letter T having tungsten as the principal alloying element) and molybdenum high-speed steels (designated by letter M having molybdenum as the principal alloying element). The type T high-speed steels containing cobalt have higher wear resistance and greater red (hot) hardness, withstanding cutting temperature up to 1,100º F (590º C). The type T steels are used to fabricate metalcutting tools (milling cutters, drills, reamers and taps), woodworking tools, various types of punches and dies, ball and roller bearings. The type M steels are used for cutting tools and various types of dies.