May 28, 2019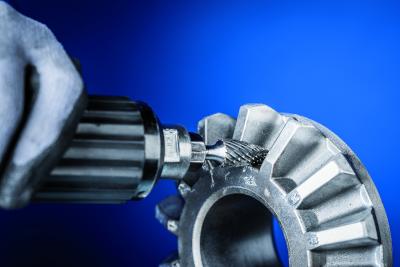 PFERD INC has introduced the OMNI cut, a versatile new carbide bur for high productivity on steel, cast steel, stainless steel (INOX) and cast iron, as well as nonferrous metals.
Offering increased removal rates over standard double-cut burs, including up to 30% greater removal on steel, the new OMNI cut range offers time savings and overall cost reductions, as well as less vibration and noise for improved operator safety and comfort.
Along with deburring, applications for the new PFERD OMNI cut bur include leveling, milling, work on weld seams and general surface work. It is compatible with straight grinders, flexible shaft drives, robots and CNC machines. Available in diameters of ¼-in. to 5/8-in., the new PFERD OMNI cut carbide burs perform best at peripheral speeds of 850-3,000 SFPM.
For convenience, the PFERD OMNI cut burs are available in either an eight-piece kit or five-piece kit in the most common shapes and dimensions.
Protected in a sturdy plastic box, the burs are secured at the shanks, facilitating the selection and withdrawal of the burs.