January 26, 2017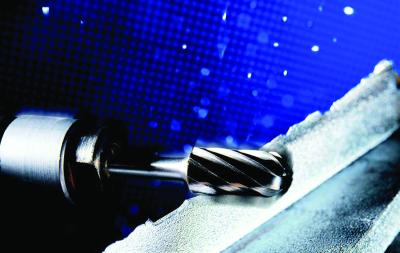 The comprehensive line of ALU/NF CUT carbide burs from PFERD reportedly brings new levels of machining performance particularly to aluminum applications. Aluminum has grown increasingly popular in industry because of its special properties, such as extreme durability, low weight, exceptional corrosion resistance and uncomplicated recycling. Processing the many different aluminum alloys, however, can be complex.
Depending on the alloy, the machinability properties can range from tough and gummy to brittle and hard. In addition, when milling aluminum, built-up edges can occur, which can cause the tool to clog up quickly.
Burs in the PFERD ALU/NF CUT range can effectively process material ranging from soft nonferrous metals, such as aluminum alloys, brass, copper or tin, to harder variants such as alloys with a high SiC content, titanium, titanium alloys and bronze.
The ALU/NF CUT family contains burs in a variety of shapes and dimensions, with shank diameters in 1/8 and 1/4 in. (3 to 6 mm), and bur diameters ranging from 01/8 to 5/8 in. (3 to 16 mm). ALU/NF CUT burs are characterized by high stock removal, long tool life, and deliver smooth milling performance. For working on softer aluminum alloys, PFERD offers a version of ALU/NF CUT called HICOAT, which has an additional coating. Thanks to antifriction properties, this coating improves chip removal significantly, increases the bur's tool life, and delivers improved surface finishes with greatly reduced loading.
ALU/NF CUT burs with HICOAT are optimized for specific material groups, such as aluminum, of course, but also steel, stainless steel (INOX), cast iron and plastic.