September 01, 2014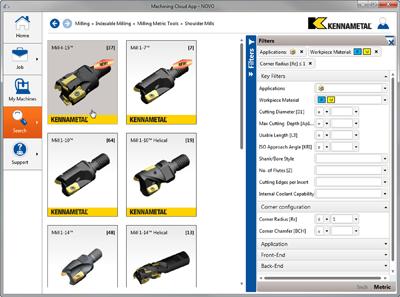 Kennametal's NOVO digital process planning application has continued growing by supplying complete tool data (milling, turning, holemaking, tools, toolholders, spare parts, speeds and feeds, and much more) digitally, saving process planners, parts estimators, and manufacturing engineers hours of catalog lookups and process guesswork. Now with seamless connectivity via the Machining Cloud, that same intelligence is driving new efficiencies in part design in CAD/CAM, cutting simulations, presetting, actual machining, inventory management, and e-commerce. Another major step forward is to feed all these real and potential process improvements back into your shop based on actual data gathered from your own equipment and start seeing where capacities change and efficiencies improve. This intelligence and connectivity has led to NOVOsphere, a fundamental step forward in how work gets done.
"It seems that most technology suppliers are rushing to provide some form of digital access to information, but digital access is just the entry ticket," says John Jacko, vice president and chief marketing officer, Kennametal. "Where Kennametal differs is in its unshakeable focus on how customers can leverage better cutting tool data and information to improve their entire business. NOVOsphere is based on an open architecture to deliver just that. NOVOsphere is an amazing vision on how far things can go to deliver productivity to our customers."
Manufacturing process experts have described the current spectrum of digital processing claims as a "feeding frenzy of connectivity and data." This is driven by a number of things; manufacturing businesses see opportunities for enhanced productivity and reduced time from design to production. More informed businesses add opportunities for providing services and products to better-informed customers – all at much greater speed.
Others see value in offering informed analysis capabilities to convert this "firehose" stream of data to a manageable set of results and metrics. "Our vision for NOVOsphere from the beginning is to provide an open-source system that interacts seamlessly with shop systems needing to leverage cutting tool data and machining knowledge for productivity improvement," Jacko explains. "NOVOsphere is built around the shop needs, from quotation to inspection."
NOVOsphere has six essential application to help our customers be more productive:
Select and Advise: This is the stage where users evaluate machining strategies based upon machine, material, part features, and specs. What is the best approach? How long will it take? How much will it cost? Which tools do I need?
Simulate: This is the stage where users simulate the entire process from end to end with the use of software such as CAM. Are there any dimensional issues? Possible collisions, too many forces?
Inquire and Purchase: This is the stage where users find out what they already have that can do the job and if it's available in real time to purchase when they need it.
Optimize: This is the stage where users would like to know how the plan is working. Are we within planned cycle time, costs? Do I use this tool/process consistently across machines/plants? Data is key to productivity.
With its open architecture, NOVOsphere possibilities are limitless. NOVOsphere is further evidence that "Different Thinking is Better Thinking." What is amazing is the many areas of a production business where better tool data improves processes, according to the company.
DP Technology imports NOVO (now part of NOVOsphere) tooling data into its latest version of ESPRIT cloud-enabled CAM software. This not only saves part programmers hours of time as opposed to manual tool creation, the part programs are better because the data is based on real tools that can be selected based on part features, work material, surface finish requirements, or whatever aspects of the job are most critical.
The value of NOVO data is not limited to the programming or process planning department. On the shop floor, presetting tools and tool assemblies is a valuable time-saver. ZOLLER, a leader in automated presetting and balancing machines, knows customers can import NOVO data from the Machining Cloud and know they have precise and reliable tool dimensions, offsets, and other critical data to make presetting reliable and valuable.
Since the 2013 launch of the NOVO original Tool Selector, Tool Configurator, Tool Advisor, and Job functions, NOVO has added connectivity to E-commerce, easy ISO 13399 exports, and seamless integration to the ToolBOSS tool management system via the Machining Cloud. Specifically, NOVO users can request a price quote from their local Kennametal Distribution Partners by transferring their shopping cart list to them via the "Request Quote" button. The distributor will receive a notification with complete detail of the items and requestor information to respond.
A new pop-up also makes it easy to add spares and other individual items to existing shopping carts. Spare parts are clearly identified as "included" or "non-included" on bills of material. ToolBOSS users on the cloud with the latest software version can now use NOVO to see if an item proposed for a process plan is already available in their ToolBOSS inventory, making both plans and budgets more efficient. Customer part numbers are automatically populated in NOVO Tool Advisor results and Tool Availability pop-ups via the ToolBOSS database.
"By adding ToolBOSS credentials to their user profile, customers easily check the inventory in their local ToolBOSS units with their developing process plans," says Chris Merlin, Marketing Manager for the Virtual Machining initiative at Kennametal. "They're better able to visualize items already in their shop."
Users can leverage NOVO via the tablet of their choice.
"Mobility is no longer a luxury. With Android, Apple and Windows Tablet versions of NOVO now available, it brings an element of added mobility and access to your tool list no matter which device you log onto," Merlin adds. "This also makes it easy for people working on the shop floor with tablets to collaborate with the process planners in other departments."
Delivering real tool data and process knowledge is one thing – where NOVOsphere delivers a knockout punch is optimizing process savings based on performance data drawn directly from your shop floor equipment.
"NOVO Optimize is the newest manufacturing intelligence application in NOVOsphere," says Colin Tilzey, director of Kennametal's Innovation Ventures Group. "It collects real-time data on how your cutting tools and machines are performing and also provides analysis of where process efficiencies or capacity improvements are available."
Every shop sits on a rich mine of data that it can collect for its own continued improvement, but a significant drawback is efficiently gathering the data from different makes and models of machines and tools. All NOVO Optimize data and process knowledge complies with the MTConnect open, extensible, royalty-free communications protocol designed specifically for the shop-floor environment. This means NOVO Optimize can draw data from machine tools, cutting tools, presetters or any piece of shop equipment or data source. And because it's connected to NOVO, it can automatically recommend process knowledge changes (speeds and feeds) or identify better-performing tools based on your specific needs to get the job done faster or optimize a specific machine or cell based on shop workload.
"Each shop using NOVO Optimize has improvement opportunities unique to them based on operator feedback and shop conditions," Tilzey says. "Identifying sources of machine downtime combined with powerful knowledge-based recommendations means the possibility for real, significant process improvement is just waiting to happen."
Such empowered shops better plan, process, and optimize their operations for significant productivity gains. The NOVO Optimize application is a subscription-based system developed in conjunction with Berkeley, CA-based System Insights Inc., allowing customers to optimize a specific machine or an entire shop.
Additional Products from Kennametal Inc.