March 01,2015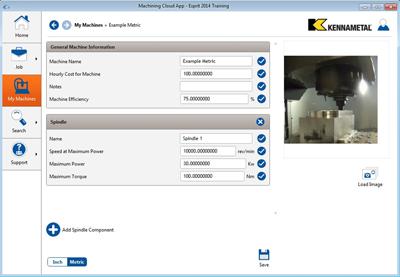 A better operation starts with better tools. Since its launch in 2013, Kennametal's NOVO digital process planning application has continued growing by supplying complete tool data and process knowledge electronically, reportedly saving process planners, cost estimators, and manufacturing engineers countless hours of catalog lookups and process guesswork. That same intelligence for driving new efficiencies is available on PC and tablet devices in the new Version 1.6.
"NOVO is an amazing vision of how far things can go to deliver powerful improved productivity to our customers," says Katie Richardson, Kennametal's director of program management for NOVO.
Version 1.6 for PCs and tablets goes further with new features not available in previous versions.
By entering basic information for your shop's machine tools, such as hourly cost, maximum spindle speed, and maximum torque, for example, a new "My Machines" button will take NOVO tooling recommendations and optimize them for your specific machine conditions. Such virtual machine libraries can also be shared across multiple users.
Also new to V1.6 is a turning cut-off advisor. Now when the Tool Advisor searches for cut-off applications, NOVO's powerful rules-based engine will return and rank the most appropriate cut-off tool based on your job conditions.
For an extra level of efficiency, NOVO V1.6 for PCs and tablets now has a customer part-number capability. Many customers use their own nomenclature, and once this cross-reference is entered and populated for the first time, it will be stored and visible whenever NOVO is used. This makes it easy to connect tool selection to a customer's internal systems.
Related Glossary Terms
turning


turning

Workpiece is held in a chuck, mounted on a face plate or secured between centers and rotated while a cutting tool, normally a single-point tool, is fed into it along its periphery or across its end or face. Takes the form of straight turning (cutting along the periphery of the workpiece); taper turning (creating a taper); step turning (turning different-size diameters on the same work); chamfering (beveling an edge or shoulder); facing (cutting on an end); turning threads (usually external but can be internal); roughing (high-volume metal removal); and finishing (final light cuts). Performed on lathes, turning centers, chucking machines, automatic screw machines and similar machines.