September 17, 2018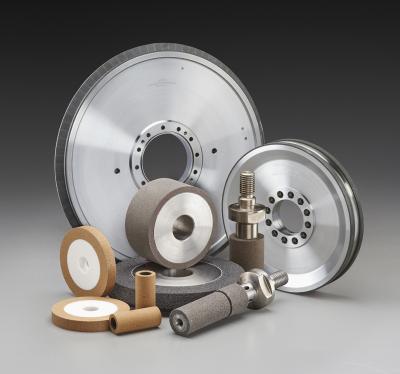 Saint-Gobain Abrasives announced the introduction of its new Norton Winter Vitron⁷ CBN grinding wheels. The wheels feature a high-precision vitrified bond specifically designed for the high-performance external grinding of cam and crankshafts and internal grinding applications in automotive and bearing industries.
"Our Vitron⁷ wheels provide an ideal solution for the increasing demands of grinding in these applications where high surface quality, reduced cycle times and manufacturing costs are critical," said Bill Lane, sr. product manager, Norton | Saint-Gobain.
Norton Winter Vitron⁷ wheels feature premium CBN grain particles uniformly dispersed throughout the bond matrix for maximum grinding efficiency. This enables manufacturers to achieve substantial increases in the number of finished parts between dress cycles, significantly reducing cycle times and extending wheel life up to 40 percent over existing products. Vitron⁷ wheels also grind cooler due to a lower specific grinding energy (SGE) that ensures minimal residual stress, for superior part quality with surface roughness degradation reductions of up to 30 percent.
When ID grinding, lower power results in less defection and minimizes taper while maximizing part straightness.