March 02, 2020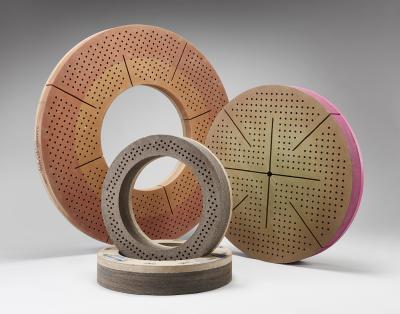 Saint-Gobain Abrasives announced the introduction of its new Norton Stellar inserted-nut grinding wheels for double- and single-disc grinding that offer improved wheel life, increased parts per wheel and lower cost per part. The new grinding wheels are suitable for a wide range of industries including automotive, bearing, tool manufacturing, compressors, knife blades and job shop and general machining.
Norton Stellar grinding wheels have an over 30% longer wheel life than existing disc grinding products and require less dressing and parameter changes for increased productivity. The new wheels also have an improved material-removal rate of more than 15%.
"Our advanced manufacturing process produces homogeneous wheels that have extremely consistent quality from wheel-to-wheel," said Kelly Pica, senior product manager, Norton | Saint-Gobain Abrasives. "We are very pleased to offer customers our new Stellar double disc grinding wheels that produce excellent, high-quality surface finishes throughout the life of the wheels."
Norton Stellar wheels are available in Norton's range of high performance grains and bonds, including the most cutting-edge ceramic grains and advanced bond technologies. All Norton Stellar disc grinding wheels are made-to-order to fit exact customer requirements, and are available in diameters from 8" thru 42" and in grit ranges from 16 thriough 220.
Key applications include piston rings, connecting rods, compressor plates, automotive and machinery components, bearing races, hand tools and springs.
Related Glossary Terms
disc grinding


disc grinding

Operation in which the workpiece is placed against the side of a wheel rather than the wheel's periphery. See grinding.

dressing


dressing

Removal of undesirable materials from "loaded" grinding wheels using a single- or multi-point diamond or other tool. The process also exposes unused, sharp abrasive points. See loading; truing.

grinding


grinding

Machining operation in which material is removed from the workpiece by a powered abrasive wheel, stone, belt, paste, sheet, compound, slurry, etc. Takes various forms: surface grinding (creates flat and/or squared surfaces); cylindrical grinding (for external cylindrical and tapered shapes, fillets, undercuts, etc.); centerless grinding; chamfering; thread and form grinding; tool and cutter grinding; offhand grinding; lapping and polishing (grinding with extremely fine grits to create ultrasmooth surfaces); honing; and disc grinding.