November 08,2017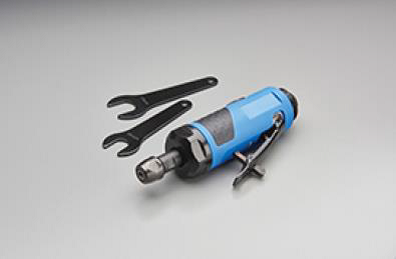 Norton | Saint-Gobain Abrasives has introduced its new Norton Die Grinder, the latest addition to the company's new professional tool line.

"We are building a more system approach these days. Our new versatile die grinder will enhance the performance of numerous abrasive products, including mounted points, flap wheels, traditional specialties like cartridge rolls, and even our new Norton carbide burs," said Patrick Carroll, Norton | Saint-Gobain Abrasives senior product manager.

This die grinder is the third Norton pneumatic hand tool released this year, complementing the previously released 2" and 3" Norton mini angle sanders.
Carroll said: "This die grinder is a solid performing product with a good-tier performance and price, and is sold as a single unit, as well as in a kit with select abrasive products. Operators will immediately notice the reduction in vibrations provided by the double-bearing spindle, allowing for longer use of the tool. And, precision is as simple as adjusting the speed regulator, giving the operator complete control of the surface finish needed to complete the job. It is designed to make quick work of deburring, light to medium surface cleaning and stock removal applications, welding preparation, and finishing. Key industries we are focusing on are metal fabrication, MRO, foundry, shipbuilding, aviation, and automotive."
Related Glossary Terms
abrasive


abrasive

Substance used for grinding, honing, lapping, superfinishing and polishing. Examples include garnet, emery, corundum, silicon carbide, cubic boron nitride and diamond in various grit sizes.