October 16, 2018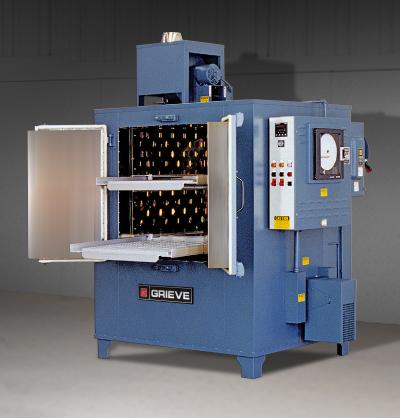 No. 903 is a 650° F (343° C ) cabinet oven from Grieve, currently used for holding large parts on rollout shelves at the customer's facility. Workspace dimensions of this oven measure 38" W x 38" D x 38" H. 40 KW are installed in Incoloy sheathed tubular heating elements, while a 1,000-cfm, 1-hp recirculating blower provides horizontal airflow to the workload.
This Grieve cabinet oven has 6" insulated walls and an aluminized steel exterior. Features include Type 430 stainless steel interior and two rollout shelves, 28" wide x 37" long rated 150 lbs. loading each. Additional features include safety equipment for handling flammable solvents.
Controls on the No. 903 include a digital indicating temperature controller, manual reset excess temperature controller with separate contactors, recirculating blower airflow safety switch, 10" diameter circular chart recorder and fused disconnect switch.