November 01, 2010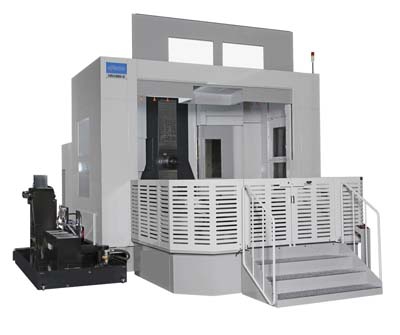 Niigata's new HN1000-S Horizontal Machining Center from SNK America Inc. is said to be capable of swinging a part up to 2,300mm (90.6") in diameter and 1,850mm (72.8") in height. The HN1000-S rapid traverse rate of 40m/min. (1,575ipm) allows for the reduction in non-cutting time.
To ensure high levels of accuracy, the HN1000-S includes a hybrid guideway system consisting of an ultra heavy-duty roller guide system on the X- and Z-axes and a hardened ground box way system on the Y-axis. A rigid spindle snout reduces the need to extend the quill to reach the part and provides a high radial load capacity for heavy milling cuts.
The HN1000-S also features a center-mounted spindle that eliminates the column twist of a side-mounted spindle. For accuracy and rigidity said to be superior to table-feed machines, the column feeds of this HMC have compound slides (stacked X- and Z-axes).
The mono-block casting spindle headstock of the HN1000-S includes a gear-driven system that achieves heavy milling capability for demanding applications. The standard spindle achieves speeds of 6,000 rpm. For additional machining applications, the machine can be equipped with a BAR/Quill-style spindle. Other optional spindles are available.
The HN1000-S also includes true coolant through the spindle for improved cutting conditions, longer tool life and superior chip removal capabilities.