November 13, 2012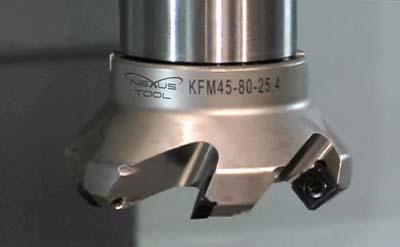 Nexus Cutting Tools, a new product line from Techniks Inc., introduces its patented ShrinkMILL facemill system. The ShrinkMILL uses shrink-fit technology to make a perfect connection between the arbor and face mill for maximized performance. The ShrinkMILL system eliminates any intolerance between the arbor and the facemill, creating an ideal shrink fit connection, according to the company. This reduces vibration and improves runout as well as tool life.
According to Mike Raper, Nexus Cutting Tools National Sales Manager, "The ShrinkMILL system brings the greater rigidity and accuracy of shrink fit to milling applications for faster cutting and better surface finish. Also, scrap rates are reduced and insert life is improved."
The ShrinkMILL system includes Nexus Tool's facemill arbors and facemills that are manufactured to precise tolerances required by the shrink-fit process. Nexus provides complimentary shrink-fit services to its customers who do not own their own machine. Choose from a wide range of Nexus high-precision inserts for all materials as well high-polished inserts optimized for aluminum.