September 30, 2019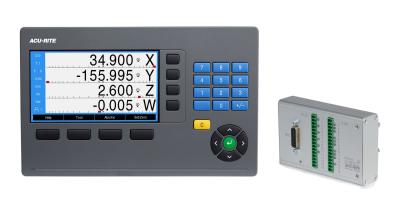 Heidenhain Corp.'s Acu-Rite brand introduces new software for its versatile 300 series digital readout (DRO) that now allows users to control a sinker EDM. This new development broadens this established DRO's use to include all of the most common manual shop machines such as milling, turning, grinding and now EDM in a single DRO.
When Acu-Rite's new EDM software is loaded into a DRO300 and coupled with an IOB 610 interface box, it enables the simple control of sinker EDM through the use of three relay signals. This software is now included on all new multipurpose DRO300s.
Some Key new features of the Acu-Rite DRO300 for EDM control are:
• Automatic Depth Programming - The EDM's ram can be configured to automatically retract or dwell at the target depth.
• Dwell Cycle – The relay holds the Z depth until spark-out occurs or can control an orbiter cycle.
• Reverse Fault Detection - This prevents creep out of the bath during a burn cycle.
• EDM Display Mode - This shows the current ram depth, the maximum depth reached and the target depth simultaneously on the three-axis displays.
Acu-Rite now offers one DRO platform that is rugged and easy to use for all common manual machines.