September 10, 2022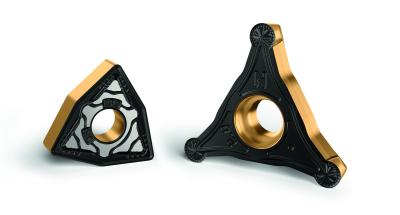 Walter has introduced new grades of Tiger·tec® Gold inserts for turning steel with a variety of both negative and positive geometries. The WPP10G grade is primarily for continuous cuts and highest cutting speeds. The WPP20G is a universal grade ideal for most applications, with an optimized performance between toughness, hardness and tool life. And the tough WPP30G grade is for interrupted cuts and unfavorable machining conditions. Walter now offers users these three Tiger·tec® Gold grades, specially designed for turning operations in steel (with cast iron as a secondary application). In hundreds of customer tests globally these new inserts have increased tool life by an average of approximately 50% thanks largely to their layered structure of coatings.
A patent-pending, highly textured, multi-layered MT-TiCN layer increases toughness and reduces flank face wear, resulting in lower cost per cutting edge. The inserts' highly textured Al2O3 layer also minimizes crater wear, and the gold-colored top layer improves wear detection. The gradient carbide substrate boosts wear resistance and toughness. In addition, Walter provides its signature multi-stage post-treatment. This produces an unusually smooth rake face, reducing friction and also increasing toughness.
This ensures high process reliability in automated processes. With this expansion of the product range, users can now benefit from maximum flexibility and minimal component costs when turning.