March 12, 2012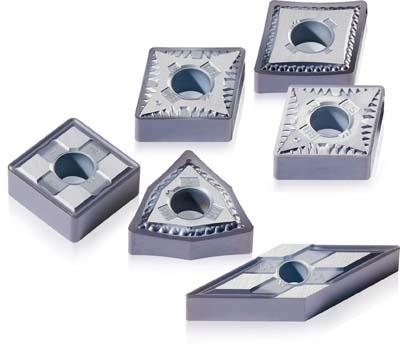 Because of their high performance strength and relatively light weight, high-temperature alloys are growing in applications across many manufacturing industries, notably aerospace and defense, automotive, heavy equipment, and energy.
Higher-temperature-strength materials, however, also mean high cutting forces when machining. Titanium, for example, also exhibits high work hardening and a large strain rate, which also raises temperatures and the energy required to remove the chip. In most applications, the answer means slower speeds and feeds, since a carbide cutting tool's strength decreases as temperatures increase.
New Beyond grades from Kennametal are delivering higher productivity for turning tough alloys, both in higher speeds and feeds (faster turnaround time) and longer tool life (more parts per tool). KCU10 is specifically engineered for increased performance in OD and ID turning, grooving, plunging, undercutting, and threading. KCU25 covers threading, grooving, cutoff, and selected additional turning applications. Both take advantage of new PVD (physical vapor deposition) coating technology, including special surface treatments that improve machining performance in high-temperature materials.
In many cases, speeds, feeds, or depth-of-cut can be increased, while related wear issues like depth-of-cut notching are reduced. KCU10 additionally features a dual-layer coating application, a top layer of AlSiTiN atop a second layer of AlTiN. The boundary between the two serves to help deflect micro-cracks.
Additional Products from Kennametal Inc.