March 05,2018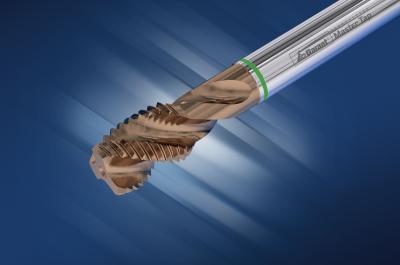 The Hoffman Group has been garnering attention with the "GARANT Master" tool family since the summer of 2015. A universal high-performance tap has been added to the product family for high-performance cutting. The new GARANT MasterTap is the result of a fundamentally new development concept for the design of universal taps. The tool achieves outstanding process reliability with high efficiency in a much wider range of materials – including steel, stainless steel, aluminum, brass and cast iron – than previous universal taps, according to the company.
The key to the unique versatility of the GARANT MasterTap is its ability to effectively remove chips. This special feature is due to a new cutting-edge geometry, as well as optimized flutes, which facilitate reliable removal of the chips. Winding chips and loose swarf are consistently avoided.
When reversing in blind-hole machining, the GARANT MasterTap ensures an extremely reliable process as the chips are sheared off in a targeted manner via the specially designed tooth back and the chip roots are smoothed – for various materials such as steel, stainless steel, aluminum, brass and cast iron. The strengths of the tool shine in particular when machining high-strength steel materials thanks to its deliberately rounded cutting edges. The rounding also ensures a defined and continuous wear behavior without breakouts and thus for a longer service life.
To achieve particularly high performance and longevity, the Hoffmann Group chose a high-quality HSS-E-PM cutting material and an AlTiX high-performance coating for the production of the new GARANT MasterTap. The special ultrasmooth AlTiX coating protects against premature wear and allows high cutting speeds, even in Al-wrought alloys, because the low friction values ​​prevent material sticking and thread corrosion. Thanks to its special guide thread, the tool achieves precise results without axial slicing even in ductile copper alloys.
The new GARANT MasterTap is the latest tool in the "GARANT Master" product family of high-performance tools. The product family already includes two solid-carbide drills, GARANT MasterSteel SPEED and FEED, a classic four-bladed milling cutter, and the GARANT MasterSteel SlotMachine, GARANT MasterSteel PickPocket solid carbide mills and the GARANT MasterSteel finishing cutters.