April 18, 2019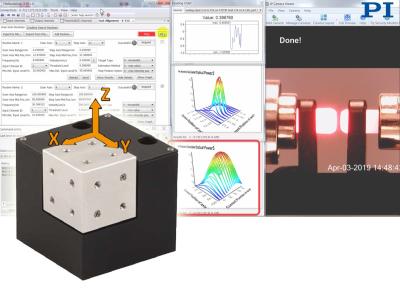 Based on a parallel-kinematic design, with only one lightweight moving platform for all three axes, PI's P-616 is available with high precision and dynamics in a compact package. Also known as the NanoCube, it is the smallest and lightest system with capacitive feedback delivering 100µm travel range in 3 degrees of freedom.
The piezo scanner can be combined with compact motorized micro-positioning stages, such as PI's L-505 miniature stage, to achieve long travel ranges up to 1" in a very small package.
The P-616 is operated with PI's E-727 digital servo piezo controller, which offers the advantage of higher linearity, faster settling and scanning speed, and easy access to all motion parameters, compared to conventional analog piezo controllers. An all-inclusive software package is included: drivers for LabVIEW, dynamic libraries for Windows and Linux, MATLAB. Interfaces consist of USB, SPI, RS-232, and analog. Supported functions include Wave generator, data recorder, auto zero, and trigger I/O.
Related Glossary Terms
degrees of freedom


degrees of freedom

Number of axes along which a robot, and thus the object it is holding, can be manipulated. Most robots are capable of maneuvering along the three basic Cartesian axes (X, Y, Z). More sophisticated models may move in six or more axes. See axis.