March 12, 2012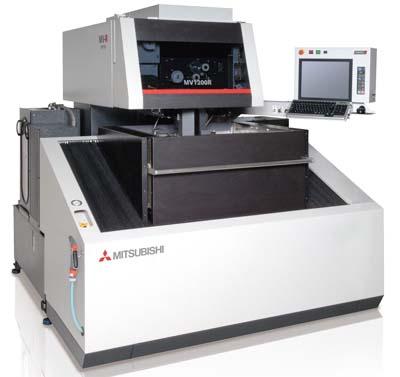 MC Machinery Systems Inc. introduces its newest wire EDM technology, the MV Series. The new line features design and engineering improvements to exceed all other wire EDM machines on the market, including: non-contact cylindrical drive technology, an improved power supply, auto-threading, deeper submerged-wire threading capabilities, and more.
The new cylindrical drive technology offers a simple yet intelligent design concept using a linear shaft motor. Other EDMs built on a linear system are a flat-plate design, which limits the effective magnetic flux to only half of its potential. Mitsubishi's round magnetic shaft creates a non-contact design using the full 360 degrees of magnetic flux. This design delivers no wear, no cogging (inherent in flat plate systems), and no backlash for better energy-efficiency, accuracy, and speed.
The MV Series is built on the latest technology in machine construction; with a one-piece T-shaped base casting, the X and Y axis ways and drives are directly mounted, providing a highly rigid and thermally stable platform, driving the table and column independently. This style of direct-axis mounting removes all squareness and accuracy issues that come with a stacked table design, providing higher rigidity and smoother movement for more reliable, precise cutting.
A new servo control system uses a fiber-optic drive system with four times the communication speed for improved reaction time and accuracy. The Digital Matrix Sensor and V350 type-V generator specifically shapes the pulse to minimize electrode wear and decrease wire vibration, decreasing wire consumption while maintaining quality and straightness of the cut. Tests show up to a 60 percent reduction in wire consumption and 40 percent lower operating costs.
A redesigned auto-threader concept delivers improved threading capabilities, with upper rollers that travel with the Z-axis, creating a constant distance to the upper guide. This allows for nearly 14 inches of annealed wire length, reducing the wire curl ratio, and improving threading reliability on tall parts and submerged rethreading through the gap in case of a wire break.
The new head design features a flat-plate power feeder using an exclusive lever lock system, making it easier to index during operation. Without the need to open doors to rotate the carbides or realign wire, shops can realize significant time savings.
The series incorporates several design improvements to reduce overall operation cost. These include less expensive power feed design, larger wire drive rollers with more useable surface, reduced electrode wear for lower wire cost, optical drive plus LSM for reduced electrical consumption, and Sleep Mode function, which turns pumps off at night and restarts them in the morning to save energy and still have the machine thermally ready for operation.