August 13, 2012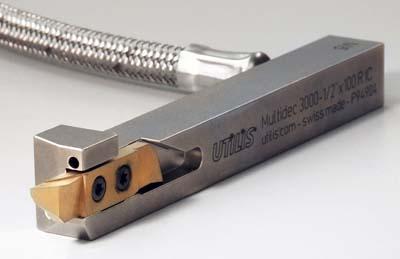 GenSwiss announces new MULTIDEC 3000 coolant through tool holders that incorporate an internal coolant jet stream aimed at the 3000 series insert edge providing optimal lubrication and cooling, longer insert life for the full range of front turning, back turning, grooving, and threading operations.
The holders are designed for pressures over 2,000 psi and are offered in stock sizes are ½" and 5⁄8" square shank with other sizes available on request. Two coolant inlet ports are designed to suit specific machine tool configurations.
In addition, the MULTIDEC 3000 holders eliminate use of solid coolant delivery lines, allowing for faster setup and more accurate coolant delivery position to the insert. There is no need for custom proprietary gang plate and no coolant manifold installation is required, or other modifications to the coolant feed systems.