March 04, 2020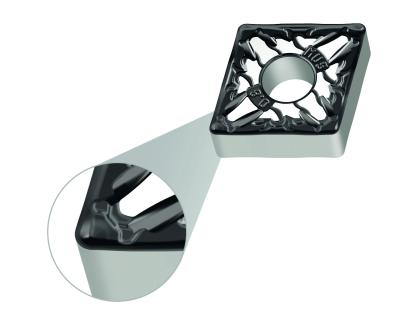 Walter has introduced the MU5 double-sided indexable insert for turning operations. The insert can be used universally both for steel forged parts and also for stainless materials.
With forged parts, particularly in automotive production, the MU5 geometry minimizes crater wear and enables reliable and fully automated production. For users with changing material demands and smaller batch sizes, the MU5 is appealing due to its universal use in steel and stainless materials.
These characteristics of the MU5 insert are due to its positive macrogeometry, while maintaining a negative clearance. Other features include an open chipbreaker groove for long tool life and soft cutting features, a V-shaped chipbreaker for improved chip breakage, and a curved cutting edge yielding high surface finish quality.
For copy turning, the MU5 geometry does not just improve chip breakage for turning and facing, but also for chamfers or radii that would otherwise be critical. During numerous field tests, the MU5 has also proven that it significantly lowers tool costs, particularly when combined with the wear-resistant Tiger·tec Silver grades. The machining parameters of the insert are 0.0006 to 0.024 in. feed per tooth and 0.020 to 0.160 in. for DOC, which applies to 60% of all applications. The new MU5 insert is available in all common basic shapes.