February 26, 2016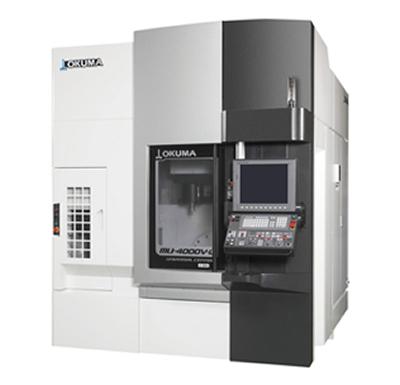 Okuma America, Charlotte, N.C., recently introduced the MU-4000V, a 5-axis vertical machining center said to be ideal for 5-axis multi-sided machining within the aerospace and die/mold industries. The MU-4000V reportedly offers high-speed, process intensive machining combined with turning and 5-axis multitasking machining.
This versatile machine features a large work envelope and substantial base in a compact footprint. Its sturdy design boasts a machine mass of 9,700kg, while the B-axis trunnion is fully supported so there is no overhanging mass. Plus, fully supported axes construction allows for a broad scope of spindles ranging from 12,000 rpm to 25,000 rpm to efficiently handle complex and difficult-to-machine materials.
The unique and automation friendly design places the pallet changes at the back of the machine, allowing easy connection to a palletace flexible manufacturing system or pallet pool, delivering high productivity in addition to high accuracy. ATC's can be configured to meet growing demands with 32- to 64-tool chain magazine systems and 64-plus matrix cabinets.
The MU-4000V can be equipped with Okuma's exclusive Super-NURBS function, enabling high-feed rates and ultra-fine finishes. Standard 5-Axis Auto Tuning System technology automatically measures and compensates for up to 11 geometric errors to ensure precision machining.