October 01,2010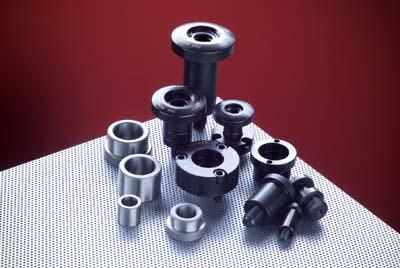 Fixtureworks offers the integrated mPower workholding system from Modern Industries. Consisting of the SpeedLoc mounting system and ModLoc modular tooling columns, these innovative products deliver unparalleled workholding flexibility, permitting set-up and fixture changes to be made in seconds, optimizing throughput and reducing operating costs. Both are part of Modern Industries' integrated mPower line of products designed to create a significant competitive edge through workholding innovation.
The patent pending SpeedLoc quick change fixturing/mounting system consists of two parts, a highly precise locator and a receiver, both made of heat treated, high-strength alloy steel. When locked into place by its cap screw locking device, SpeedLoc can create a maximum hold-down force in excess of 45,000 lbs. Installation or disassembly of the locator and receiver can typically be done in a minute and half or less. It offers workholding accuracy within +/-0.0004" and a unique self-extracting mechanism that eliminates the need for prying, pounding or using jack screws to separate fixture and base plates. This also enables it to be easily removed from counterbored installations.
The quick disassembly feature eliminates binding problems, which can compromise alignment accuracy, damage fixturing and increase downtime due to lengthy change-outs. A compact, flush mount design option is available which allows the locator head to lie flush with the fixture plate surface. SpeedLoc is suitable for use with horizontal and vertical machining centers, CNC turning machines, forming and welding equipment, transfer lines, assembly equipment, plastic molding machines … in short, for nearly any application where fast and precise locating and fastening are required.
The patented ModLoc series of modular tooling columns combine advanced structural engineering with strength to produce a unique tooling column system that offers exceptional speed of assembly with strength, rigidity, precision, reduced weight, and an open architecture that easily accommodates hydraulic and electrical systems. When employed in conjunction with the SpeedLoc system, ModLoc modular tooling columns can cut fixture plate setup time to under one minute. The relatively light weight of these modular tombstones enables HMC machine tables to operate at optimum efficiency with reduced machine wear and tear. The ModLoc tooling columns are available in a wide range of configurations to permit the broadest range of machining center applications.