February 01, 2017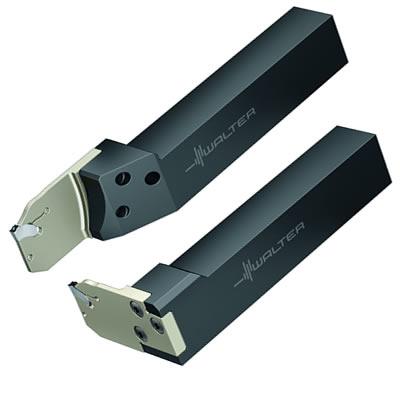 Walter has introduced the Walter Cut—Modular System G2612/2622, new SX system tools for deep grooving and parting operations that reportedly save time and cost. Suitable for all machine types, and for grooving and parting-off ranging from small to large diameters, the system allows users to simply replace the module to change to a different operation or insert size, without removing the holder from the machine. The result is decreased time and cost. In addition, these new modules allow all GX and SX style inserts for radial and axial grooving to be used in the same holder.
The new Walter Cut tools come in two versions, the G2612 (0°) and the G2622 (90°). Each permits the flexible use of several cutting widths per module on the same base holder, and each has cutting widths of 0.079 - 0.315 in. (2-8 mm) and cutting depths of 0.787 - 1.772 in. (20-45 mm). Shank sizes are 3/4 - 1¼ in. (20-32 mm) in module sizes E20, E25 and E32.
Related Glossary Terms
grooving


grooving

Machining grooves and shallow channels. Example: grooving ball-bearing raceways. Typically performed by tools that are capable of light cuts at high feed rates. Imparts high-quality finish.

parting


parting

When used in lathe or screw-machine operations, this process separates a completed part from chuck-held or collet-fed stock by means of a very narrow, flat-end cutting, or parting, tool.

shank


shank

Main body of a tool; the portion of a drill or similar end-held tool that fits into a collet, chuck or similar mounting device.